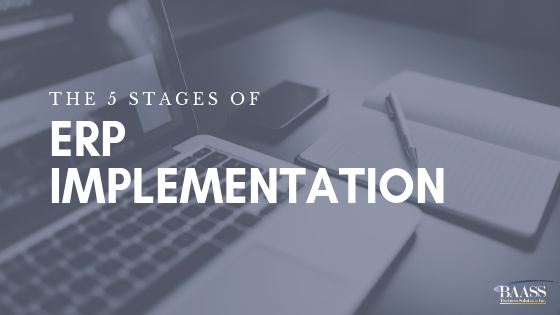 Tony Robbins once said, "success leaves clues". Essentially, successful people learn from previously prosperous people for hints to work smarter and do better. In order to improve, one must learn from past mistakes and triumphs and incorporate these lessons into their current action plan.
This is reflected when it comes to ERP implementation: success does leave clues. These clues point the way to a phased implementation that accounts for a multitude of needs. Here at BAASS, we have refined the process into 5 stages that are common and consistent among successful companies when it comes to ERP implementation.
Step 1: Understand What You Need
Before looking into the solution itself, it's salient to familiarize yourself with the organization's needs. It is in this stage that companies conduct a careful and thorough review of what the organization is looking for. It is important to factor in not only people who will be using the ERP system but employees of various disciplines and groups. Ultimately, the goal is to understand the organization's needs, tools, resources, and challenges.
Step 2: Make a Match
Upon evaluation, companies will look at different vendors and offers; in doing so, they also weigh the pros and cons of each option. The idea is to find an ERP system that addresses the most needs at the best cost. An analysis and revision will be done to assess the gaps between the desired solutions and the available solutions. Consider going back to the vendors under consideration to see how these gaps could be addressed. There is always the possibility the vendor offers additional tools that can simply address the gaps. In the case this is not an option, you may need to look into a custom solution.
Step 3: All Onboard!
Although choosing an ERP system is important, what's the use if no one knows how to use it? The next step would be to ensure that everyone who will be utilizing the system gets the right training. A training program should be created to address the organization's needs, schedules, and training scope. This process may vary depending on the organization; some may need one day of training, while others need two-half day trainings. Ensure that you consider and have extra time for hands-on training and refreshers following these sessions!
Step 4: Test it … so you don't break it.
Before the system is committed to the whole company, it should be tested thoroughly to ensure it is pulling data correctly and providing the desired information. Make sure your new ERP system is running to your satisfaction!
Step 5: Go-Live and Enjoy!
At last, what everyone is waiting for- Go-Live. It is now time to roll out the system company-wide. However, make sure you take note of any questions, issues, or notices with the new software. A suggestion would be to have someone in your company appointed to be the keeper of the questions or the one who gathers everything together to help resolve the issues. It is easier to have one point of contact or one system expert in place. That way, the designated person can answer quick questions about the system, or reach out to the vendor if needed.
Congratulations! Your new system is in place. If at anytime you run into an issue BAASS is here to help. BAASS offers a CCM (Customer Care Membership) program that allows customers to have access to a dedicated support team if they experience any issues.
Success leaves clues, and companies who have been successful in past ERP implementations have left clues of their own. Everyone at BAASS wishes you a smooth transition into the new and exciting world of ERP.
Make sure to download this checklist: Click here
QUICK OVERVIEW OF ERP
An ERP system shares and distills data from across the organization, into reports and data that can enhance every aspect of your business. Sales, marketing, supply chain, operations, finance, and human resources will all benefit from the new ERP system. Once it is in place, silos break down and data helps make everyone's contributions to the company transparent. Rather than guessing, business decisions can be made based off of data. The benefits gained from the implementation are endless. Learn more.
Read more about this Sage 300 ERP implementation sucecss story: