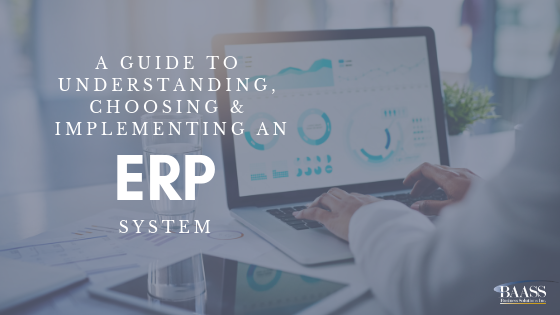 As more and more business technologies are developed to streamline workflows and day to day tasks, the question a business must ask itself is less "Can this software increase my business' productivity?" and more "Which ERP software will best increase my business' productivity."
HRIS and Cloud accounting are both examples of specific software that help to manage and organize the processes of a particular department. However, sometimes it can be challenging to integrate various software into your companies day to day — which is where an ERP system comes in.
An Enterprise Resource Planning System is a business process management software that provides a company with the capabilities to integrate automated processes and manage them all in one place.
This system has a vast scope and prevents companies from installing and implementing a variety of software that fails to integrate well together. Instead, an ERP offers various modules in the form of a suite, and it is up to a company to identify the set of modules that best benefits its output.
Now that more businesses understand the advantages of automation software, the key is to identify which of the functions best suit your company, and then to integrate the ERP system that boasts these functionalities.
To truly understand the value of an ERP system, you need to understand not just what it does, but how to implement it and how to choose the right one for your business:
What is ERP?
G2 Crowd defines ERPs as "complete, integrated systems that manage all aspects of a production-based or distribution business, aligning financial management, human resources, supply chain management, and manufacturing or distribution with the core function of accounting."
At its core, an ERP system is a resource for data centralization, workflow management and tracking. ERP systems record information, which can then be assessed by all departments to decide if the right processes are involved with any given task.
These features help to make sure that every employee can address tasks with the same processes, and have the same data to use as a point of reference.
ERP systems provide companies with the tools needed to make business activities seamless throughout all departments. These systems make it easy to track all aspects of your business' processes, including production, financials, distribution and back office.
In addition to providing real-time reporting and automation for whichever workflows your company focuses on, ERPs are available with different combinations of features. However, every system will Include two significant functions:
Back Office Sales
Account or HR Operations Management
Back Office Sales Features: In the world of ERP, back-office sales is essentially an accounting feature. This feature can:
Manage & define charts of accounts
Process any accounting transaction ranging from payments to sales to purchases to journal entries.
Report monthly and annual financial closing
Generate financial statements
It is ideal for back-office sales features also to include customer contact management and financial management. The latter usually contains sales tracking and invoicing functions.
ERPs typically don't include lead management, which is why if you require those types of services, you are going to want to find the suite that can specifically offer those features in combination with others.
Back office HR systems can have similar features; however, some ERPs only have payroll processing features, while others have an assortment of functionalities like payroll, benefits, scheduling, tracking and recruiting management.
Operations Features: An ERP's management functions are crucial when it comes to helping increase a company's productivity. The system's distribution abilities help business owners manage their physical inventory — and across various locations.
The system allows users to streamline picking, packing and shipping tasks from filling orders to tracking orders.
Remember, while these are the core functions of an ERP system, there are various ERP solutions created for multiple departments and industries. ERP's other features are not limited to:
Supply Chain Management
Warehouse and Inventory
Managing One-Off Products
Professional Services Management
Purchasing
Finances Management
Human Capital Management
All your company needs to do is identify what exact solutions and automation capabilities they need from an ERP system to determine which system will work best for its specific needs.
How To Choose Your ERP
It is because ERPs have such a broad scope that it can be tricky to identify the right one for your company, and properly implement it.
Blog: 7 Questions You Must Ask Any ERP Software Firm
As already mentioned, business processes are more accessible to streamline nowadays due to the variety of software available to manage different tasks, workflows and data collection. However, the tricky part is finding the right software — or a combination of software — that will indeed increase your business' productivity.
Choosing an ERP is no different, as it's crucial to find the right vendor and modules to make sure that the system can adequately integrate with all of your other processes.
SearchERP suggests that the best way to go about finding the right ERP for you is to take the time to determine the core objectives and needs of your enterprise. This will help you identify the essential functions your company needs from an ERP software suite.
When choosing your ERP, it is essential to consider the following:
Is ERP a good fit for your company?
Which software type is best suited to your company?
Which ERP systems are the most popular?
How are ERP solutions being sold and implemented?
Does the ERP offer services to implement and maintain the system?
What's the size of your company?
What functions do you need?
What functions are a must need, and which would just be a bonus?
Is it being used on-premises or also off-premises?
After identifying these things, you will be able to make an educated decision on what kind of ERP will best suit your business.
According to Statista, the ERP software market value was 82.6 billion U.S. dollars around the globe in 2017 alone. One can assume that this a result of the system's flexibility and how it can be catered to a wide variety of industries.
After all, an ERP is typically comprised of various modules based on the specific needs of different departments. According to G2Crowd, popular modules include:

Human Resources Software: This system helps streamline recruiting and payroll processes as well as HR integration.

CRM Software: Provides essential functions for customer management and sales that integrates with any existing CRM.

Order Management: Includes capabilities to purchase order management like workflows and other integral processes such as task management.

Sales: Some ERPs have sales oriented abilities such as creating sales orders, organizing returns and creating various quotes

Supply Chain Software: Allows for the management of transportation and demand planning for distribution companies.

Accounting Software: Manages cash, accounts receivable and payable, as well as the general ledger.

Warehouse & Inventory Management Software: Provides management tools for shipping, packing and picking.

Reporting: ERP Solutions provide analytics and reporting for all of these different department-based functions.
ERPs typically include an assortment of solutions (see above), but there are particular systems that are more industry or department based (i.e. supply chain management, asset management).
Some companies may not need such expansive functionalities that can make tasks and workflows confusing and convoluted, which is why these solutions are commonly sold separately in what is called an ERP suite. This allows businesses to choose the ERP suite that has the right combination of capabilities that will best help their productivity.
ERP Success Story: Midwest Wine & Spirits
Types of ERP Software
ERP systems typically have a wide range of functionalities to benefit various departments and companies of different size and scope. There are ERP systems specifically geared to certain types of companies.
ERPs are most commonly used in manufacturing companies but are now being utilized by an increasing selection of industries. For example, there are ERP systems specifically designed for the following sectors:
Food & Beverage
Pharmaceuticals
Fashion
Implementing your ERP Suite
ERPs are, without a doubt, a complex system. When you decide to purchase an ERP, it is also essential to have a plan of attack for how you will implement the system.
While some businesses just need to install the system, others have to integrate the system with other software and workflows already in place.
If your company is large in size, you have to think about:
1: The best way to train everyone to use the resource
2: The best way to integrate all the necessary data and documents into the system so that they are accessible and trackable for everyone.
Remember, there is also a set of costs that come with implementing an ERP system. These include:
Maintenance (i.e. Security updates, ensuring sufficient hardware etc.)
Fixing Technical Issues
Data Backups
Security Setups
Upgrading the Software
There are Cloud ERPs available, which, because they operate through the web, require minimal hardware and maintenance, which significantly reduces costs.
It's essential not to be deterred by these costs, however, because these systems allow you to cut costs in other ways, i.e. the costs of resources to complete monotonous tasks that can be automated with an ERP.
Blog: The 5 Stages of ERP Implementation
Who Uses ERP?
An ERP is suitable for businesses of all types and sizes because they are available with varying capabilities.
ERP systems streamline processes in all departments of a growing business. From marketing to sales to HR, the system's functions improve work productivity in all of these departments, and, in turn, helps these departments work better together.
At one point, ERP was primarily used in distribution and manufacturing companies to track sales, output etc. The system allowed business owners and decision-makers to identify what they needed to manufacture and what materials were needed to help.
This allowed them to pinpoint the most efficient way to produce material, manage inventory, buy stuff, and track the purchase and shipping process. Now, this system is used in various departments ranging from accounting to product design.
What Is Confusing About ERPs?
CIO describes ERP as a system that "standardizes, streamlines and integrates business processes across finance, human resources, procurement, distribution, and other departments."
As already mentioned, an ERP is not a one-size-fits-all solution for all companies. Varieties of the system are offered with different combinations of modules based on:
What industry you are serving
How big your company is
What specific automated and tracking capabilities your company requires
Additionally, many people think that ERP is specifically for accounting and HR companies and departments, due to the fact that there are intensive payroll, recruitment and data modules available — but this isn't where ERP solutions begin and end.
An ERP system provides a lot more functions than your average accounting software, mainly because there are so many modules available. An excellent example of a modular ERP system is Sage 300.
Your company may have an ERP geared towards accounting, but you can also integrate other modules with functions that help streamline different types of processes like tracking and recruiting.
What to Expect When You Integrate an ERP
Take some time to take a look at your business processes and identify what type of ERP functions will help you improve managing tasks and what monotonous tasks you'd like to automate for efficiency purposes. This will help you to identify the ERP solution (or ERP suite) that will best suit your business' needs.
After the system is integrated and implemented, all necessary information has been input, and your staff is trained, here are the main changes you can expect to see in day to day tasks:
Quicker order processes.
Seamless communication for production, warehousing etc.
Automation of sales ordering (In other words, minimal tedious data entry).
Improved customer service (Thanks to immediate access to accurate, secure information from varying locations.)
High-end view of performance for better decision making and establishment of new processes.
Accurate and faster bookkeeping due to automated tasks leaving less room for human error.
It is plain to see that the advantages of implementing an ERP system are countless. From industry-specific modules like payroll and recruiting functionalities for HR to tracking and purchasing management for sales departments, every industry can find an ERP system to fit their unique needs to complete specific day to day tasks and workflows.
The first way to truly understand ERP is to understand its various purposes and how large it's scope is. The question isn't if an ERP can benefit your company, it's which one will maximize your company's productivity.
Learn more about one of our ERP solutions: Microsoft Dynamics GP
Check out some of our ERP implementation success stories:
The Kidney Foundation of Canada