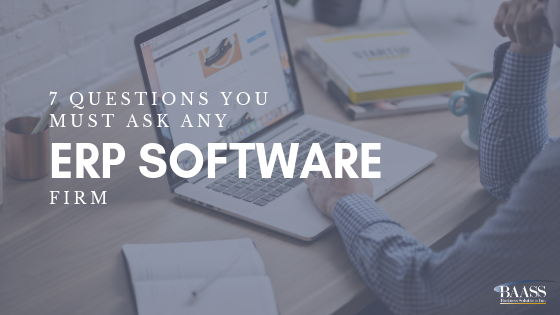 At BAASS, we strive to be more than software providers, by being the trusted business advisors to companies of all sizes. As a result, we developed 7 questions every company that is considering ERP software should ask the firms they are engaging with during this process.
We hope to be informative with these questions and help you in your journey to a successful ERP implementation.
How many successful ERP installations have you performed?
ERP implementation can be a complex and unpredictable undertaking, so the consultants you hire for the project should be well experienced. Experience allows them to have years of expertise, so they have the right skills and knowledge to handle any issues that may occur during the installation process.
Describe your consulting resources. How many full-time consultants do you employ, and are they qualified?
Consultants make up a consulting firm, hence their significance to the implementation. Be sure to inquire about the consultant's qualifications and experience. Be aware that prices may vary, in the case that you are able to request for a junior or senior consultant. It's important to recognize that the firm should have enough bandwidth to allow them to respond to your needs on a timely basis.
What is your guarantee or warranty?
Having a guarantee or warranty demonstrates the consultants' confidence in their solutions, in turn, giving you the confidence to work with them.
What kind of training and support do you offer?
The implementation of the ERP software is just one part of the process. What is the use of the software if no one knows how to use it? Your organization will need full training and ongoing support to maximize your efficiency with the new software. Make sure that the consultants you choose to work with will provide full support for Go-Live, as well as for the 3 months (or more) afterwards. Having options available to access the consultants' expertise and support on an ongoing basis may come in handy. Full end-user training should be available through remote, on-site, and classroom sessions. This ensures that your employees will be equipped and confident to use the software prior to the project's completion.
Is the software customizable and can it be integrated with my other systems?
Having customizable software may be the one thing that pushes it towards being the perfect solution for your organization. These extra functions may include the ability to integrate your new ERP software with the other systems in place at your organization. It is a bonus if the consulting company has an in-house development team, as they will be able to add additional value to your solutions.
Check out our Development Marketplace.
How does your software support the extended enterprises?
Be forward looking for your organization! The ideal situation would be for your new software to support the whole enterprise, where needed. In the future, you may require more, such as a CRM system, HR Management System, or webstore. The software implemented now should be able to support extra added feature in the future.
Have you done similar implementations for organizations in my industry?
Nothing is better than hearing practical cases that the software firm has taken on in the past. Their experience in your industry can be the factor that pushes them towards being the appropriate vendor for your organization. Experience with organizations in your industry may have equipped them with the right knowledge and expertise to handle any issues that may arise during your implementation process.
Asking your ERP software firm these questions may help you find the right partner for your organization. We have created a downloadable checklist you can have on hand when talking to the potential partner. For more information about ERP, click here. Contact us today.