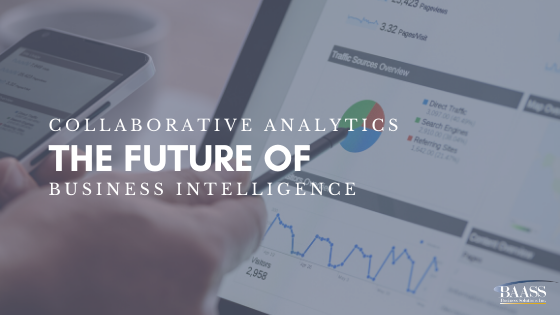 The new buzzword in business intelligence is collaborative analytics. This is the method by which many people, rather than one single person in a company, can review, analyze, and compare data from business operations. Companies which use collaborative analytics follow the old adage "two heads are better than one" but extend the concept to many people; allowing many minds to examine business data to find solutions.

Cloud Technology Enables Easy Data Sharing
Cloud technology has revolutionized the world of business intelligence. Business intelligence systems, themselves, make it easier than ever before to share data; but, the cloud has pushed data sharing from seat-based access to anytime, anywhere data.
Shared Data Leads to Better Business Insights
Information used to flow in one direction: from the top down. Corporate leaders received data input from their teams and used that data to create elaborate presentations. Data was shared in formal meetings, with someone leading the meeting and presenting the data using a PowerPoint presentation or laboriously written report.
Now, that's all changed. Today's business intelligence data flows from one employee to another without someone dictating what data can be shared and what can't be shared. Everyone on the team who has access to the business intelligence system can find and use data from all points within a company.
The resulting free flow of data means that everyone has an equal say in how the data is used. People can collaborate more easily on projects and seek advice from others using shared data resources. The resulting collaboration builds a stronger business thanks to improved access to data and more creative minds analyzing it.
Analytics for Everyone
This combination of cloud technology and improved method of sharing data leads to bigger and better changes for an organization. "Analytics for all" is the rallying cry of the new generation of business intelligence systems.
Systems once limited to access on-site can now be viewed at home on a tablet, on a smartphone while at a client's office, or anywhere employees are working. Reports can be run from the business intelligence system that makes it easier for everyone to understand and use data.
More information, with improved access and easier interpretation, means that your employees can contribute more to the development and improvements in your business. Using data as a springboard for decisions becomes the norm for all rather than the purview of a select few executives.
Data Becomes the Norm
Right now, it may seem as if data use in your organization is still the exception rather than the norm. It takes time for everyone to become comfortable with using and analyzing data.
You can help your employees gain confidence using business intelligence data by offering plenty of training sessions on how to use the BI system. As their confidence in the new BI system grows, they'll be able to contribute more to every project. Evidently, contributing to a more profitable business.
If you want to learn more about business intelligence here is a free whitepaper by Sage on the different types of BI and why they're needed.
Blog: 5 Reasons Why Business Intelligence is Useful for your Organization
BAASS Business Solutions, Inc.
BAASS Business Solutions provides software, consulting, and services for many industries. For over 25 years, we've helped businesses harness the power of data and analytics through business intelligence systems, enterprise resource planning systems, and much more. Talk to us today about how BI can help you build a better business. Call 905-660-1285 or 1-888-650-5544 or contact us online.