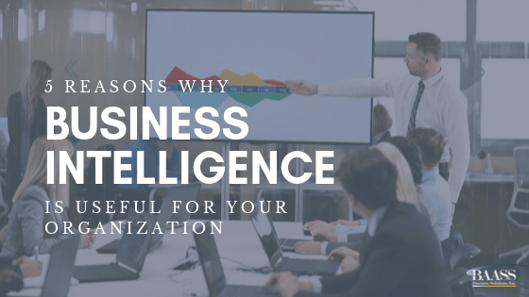 Business intelligence is an all-encompassing tool for analyzing data. This raw data is transformed into meaningful and useful information for business purposes. The implementation of business intelligence provides a complete view of your business, helping individuals make better, actionable decisions. Not convinced about BI yet? Don't worry - we have compiled a list of reasons as to how BI can be useful for your organization.
Derive useful information from data
You may have all the data in the world, but it does not mean anything until you understand it. As more data is able to be compiled, due to the dramatic acceleration in technology, BI becomes ever more essential in analyzing the collected information. This information can be used for a variety of things, whether it be to forecast or make business decisions. Without analyzing the data, various businesses will be unable to understand how the data collected applies to them, specifically. To put it into perspective, $1M of revenue in a year may be an abundance for one company or a day's worth of revenue for another. BI allows you to put your data into perspective and contextualize it.
Make smarter decisions
The more accurate your data, the smarter are your decisions. Having a tool that can provide you with consolidated historical and forecasted data, like trends, advances your ability to make the right decisions for your organization. Consider that forecasted information may also help you be more proactive in your decision making for the future!
Consolidated perspective - Get the big picture
Business intelligence is a tool that can draw on information from all aspects of your business. Connecting this diverse web of information can give you a broader picture of your organization as a whole. This picture may give you an idea of where you can cut costs, or where the greatest chunk of your revenue is coming from.
Learn more about Collaborative Analytics:
Collaborative Analytics, the Future of Business Intelligence
Streamline and Consolidate
BI can streamline your reporting process, and consolidate information almost instantaneously to relieve the headache of gathering information across different sources of data. What would be a business challenge for many, can be solved by a business intelligence solution. Business information than can be pulled quicker would make your organization more efficient.
Focus on your customer
Information is power when it comes to your customers. A business intelligence solution will allow you to have information regarding those who should be focused on. Gaining insight into your customers may tell your organization a lot, especially regarding the behavioural patterns of customers. From this, it can be determined which customers should be prioritized and focused on. In tune with this, knowing what your customers want, and when they want it, will positively impact your company's ability to satisfy their wants. After all, as Michael LeBouef said, "a satisfied customer is the best business strategy of all".
Blog: The Role of Business Intelligence
Are you convinced about BI yet? Check out our page for more information about Business Intelligence and our solutions.