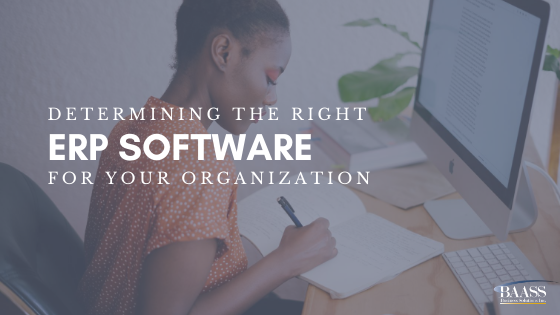 The process of finding the right business software for your needs can be complicated and overwhelming. With many options to choose from; basic accounting, manufacturing, and/or distribution operations.
Consider the following tips when preparing to select a new Enterprise Resource Planning system for your organization.
Before you begin your search, sit down with key leaders and managers within your organization and determine why you need ERP software. Are you looking to streamline operations? Reduce the time it takes employees to complete essential tasks? Reduce data entry errors? Improve customer service? All of the above? What are the potential savings and increased revenue opportunities you may gain by addressing these issues?
Determining your need for ERP software will help you select the right software and vendor. Also consider what the best method for consumption of the software is for your organization, for example on premises, private cloud or true cloud delivery of the software. If you are looking for a solution to streamline your financial management and accounting, you don't want to invest in a solution with all the bells and whistles for manufacturing companies (unless you need it).
Once you've determined your needs list, make sure to collaborate with every department that will be using the system to discover their "must-have" features. Make a list of the top features the system must include and then make a separate list of the "nice-to-have" but not necessary features. If the solutions you are researching do not contain your "must-have" features, it is not the solution for you.
Selecting the right partner to assist you with implementation and ongoing support is even more important. Great technology poorly implemented will cost you time, money and greatly reduces the potential positive impact to your organization. Partnering with professionals who can walk you through implementation, training, and support will add tremendous value to your investment allowing the software to work for you, support your growth and help you to reach your business and financial goals.
To help you select the right software for your organization consider these practical steps:
Involve the right people
Define the challenge
Assign a project manager for the process
Evaluate application performance
Choose a software vendor
Implement the system, by developing an education plan and a Phase 1 implementation plan
If your organization doesn't have the time or personnel with the skills to navigate the list above, don't despair, we can help. BAASS Business Solutions specializes in helping companies select and implement the right software that will resolve business issues and clear the path for grown and increased profits. Click here to read more about how we were able to help this company hone their financial operations.
Learn more about Eastern Currents' successful ERP implementation!