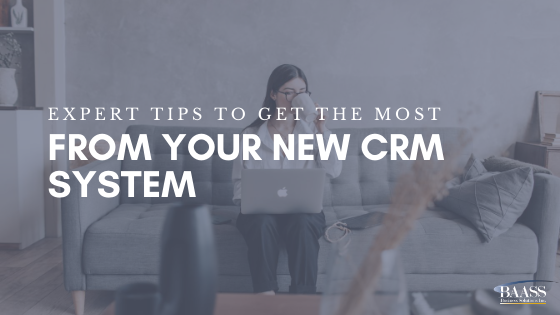 You've planned for months to purchase and implement your new customer relationship management (CRM) system. Now that the system is in place and your customer records have been imported, it's time to get the most benefit from it.
We've compiled this list of tips from experts throughout North America on how to get the most from a new CRM system implementation. Whether you use one tip on this list or several, they'll all come in handy as you begin using your new CRM.
Provide plenty of training: You'll get the most from any new software if you provide many opportunities for employees to learn how to use it effectively. Schedule general training sessions and "power user" sessions with the people who will use the CRM often. Designate one or several people in the company to become masters at using the CRM and send them to special training sessions so they become fluent in the new technology. Having someone on staff as the go-to resource for questions saves a lot of time and helps improve CRM use rates in your company.
Reward teams who use the CRM: Measure how well each team in your company adopts and uses the new CRM system. Reward teams who embrace and use the system quickly. A reward can be as simple as a special mention during the company meeting, lunch purchased for the entire group, or an afternoon off.
Adjust metrics to fit the new model: One trap that companies often fall into is keeping the same metrics in place before CRM implementation and after. You may need to adjust efficiency metrics for effectiveness metrics. Mapping customer touch points and measuring the effectiveness of them over time is a better measure of success than time on a call, number of customer service tickets closed in a week, and other productivity measures.
Think twice before tweaking the CRM: Before making adjustments or customizations to the CRM system, consider whether change will impact efficiency, effectiveness, or operational impact. Only if it changes one or more of these three areas should a customization take place. Otherwise, you can fall into the trap of changing a CRM system that is perfectly fine, simply because not everyone on the team understands how to use it properly. Only if the system changes will make an impact on operations, service, or effectiveness should they make the list of things to hone.
Listen to your customers: A CRM system is more than a glorified contact management database. It's a great way to gain insights on what your customers want, need, and desire. Take time to truly listen to their needs. Monitor calls, emails, texts, and other messages that flow through the CRM. Note any requests or problems that occur frequently, as these can represent opportunities for improvement.
Keep data clean: Make sure that you develop a data dictionary and quality guidelines from the start of the project and follow up to make sure that everyone using the CRM system is adhering to both. To keep a CRM database clean, everyone must adhere to the data rules. Assign someone to guide users through data entry and make periodic checks on data entry to fix any errors. It's better to keep data clean than to have to go back into a large database and adjust multiple entries.
Remember that CRM isn't just software: CRM isn't just software—it's a strategy. Sure, the software is an important component, but it's not the main reason why you adopt a CRM in the first place. CRM is a mindset that builds brand and helps your company acquire, retain, and create loyal customers.
Looking for more information regarding Customer Relationship Management? Check out this free CRM Ultimate Guide ebook.
For more expert insights into CRM, contact BAASS Business Solutions. For over 25 years, we've helped companies throughout Canada create better businesses using the right technology. Talk to us today about how we can help you build a better business. Call 905-660-1285 or 1-888-650-5544 or contact us online.