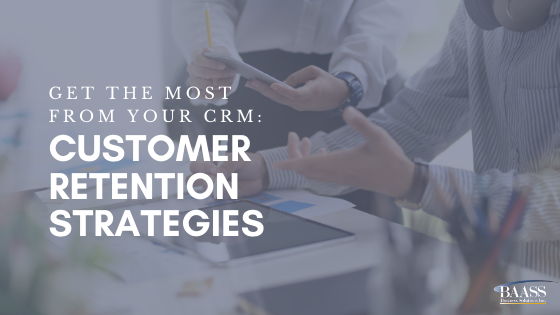 Your CRM system can be a valuable part of a strong customer retention strategy. Marketing experts speak of the marketing cycle as acquisition, retention, and loyalty. Acquisition is the first step; it means to attract new customers to your business. Retention and loyalty are closely linked, with retention meaning customers returning to your company and loyalty meaning they return and wouldn't dream of going anywhere else.
CRM, or customer relationship management, is an approach to marketing that incorporates the use of software to manage customer communications and interactions. When used appropriately, your CRM system becomes a valuable adjunct to a customer retention strategy that can be used to generate repeat business from your existing database.
Three CRM Retention Strategies that Work
A CRM system contains a wealth of customer data that can be used to encourage repeat sales as well as boost loyalty among your customers. The following three retention strategies can be implemented using your CRM system and achieve great results.
Build a VIP system: You may know which of your customers are VIPs or you may need the help of your sales or CRM database to identify them. Establish criteria for your VIPs, whether it's sales volume or frequency. Then think of ways to reward them for their patronage. Perhaps expedited shipping, free shipping, or a bonus may be a great way to reward them. Use your CRM system to communicate your thanks for their business and be sure to let them know you appreciate them.
Personalize follow ups: You can use your CRM system to personalize follow-up communications with customers. Personalization goes beyond using their name in the salutation field. Use the information contained in the CRM system to reference previous orders and check on their satisfaction with their orders, to inquire whether a problem was resolved to their satisfaction, or simply to ask about their business needs in the next quarter. The more you can personalize your interactions with your customers, the better they respond and the more likely you are to keep their business.
Scheduling sales calls: Use your CRM system to schedule sales calls, training calls, and check in calls with your customers. Record the information in your CRM system and make it a point to connect with valued customers at least quarterly, if not sooner. Include notes about each visit so that if someone else connects with them, they'll have more information to prepare them for a successful visit.

Retaining existing customers and ensuring their continued satisfaction helps you build your business. With a base of happy customers, you can then continually expand and add more while maintaining a profitable business. Using your CRM system to boost retention rates is a smart business practice that will help you increase revenues.

Blog: How to Develop a CRM Strategy
Free White Paper and Video
If you aren't sure what a CRM system can do for your business, we invite you to download our free white paper or watch a free 30-minute video on our website to help you understand CRM. With the right CRM system and approach to CRM, you can increase retention rates and better serve your customers.
Business Systems and Solutions from BAASS Business Solutions, Inc.

Choosing the right system starts with choosing the right software vendor. With a good vendor by your side, you'll have a knowledgeable partner who can help you find the right software for your needs. BAASS Business Solutions offers expert insight, knowledgeable people, and business software that will help you be more productive and effective.

For more information, contact us online or call 1-888-650-5544.