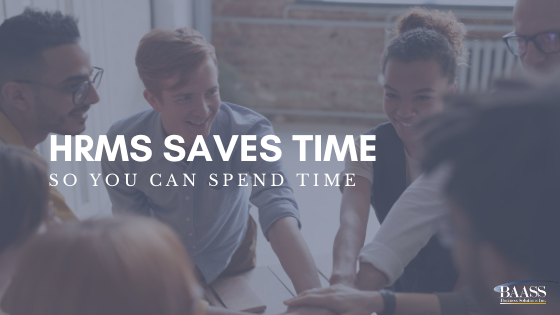 Want to save time...so you can spend time? With the right human resources solution at your fingertips, you can save time on routine tasks so that you can spend more time finding, recruiting and training terrific employees. The resulting personnel improvements can make your company more competitive.
Consider that the average human resources department spends an extraordinary amount of time on recruitment and retention of key employees. But they also spend a lot of time on mundane yet important tasks such as payroll administration, attendance and time tracking. By saving time on one, you can spend more time on the other—a task that will help your company achieve its goals.
Save time so you can spend time...save time on the simple tasks that can be easily automated, spend more time on the tasks that only a skilled human resources professional can tackle, such as networking, training and more.
HRMS: Saves Time
If you own a small to mid-sized business, you know that it's not easy to balance the daily operational responsibilities with human resources-related tasks. Many owners and managers wear multiple hats, including the HR hat. Any time saved will be well-invested back into the business.
HRMS offers customizable solutions that help you manage your personnel more effectively. HR integration, payroll, benefits and attendance management and reporting all shave considerable time off of routine tasks. Data analysis and reporting can also provide insights into many human resources needs.
With data streams integrated into one interface, HRMS offers human resources personnel information at their fingertips. Instead of accessing multiple systems, one system can provide you with the information that you need.
Time Spent Better Elsewhere
All of that time saved by using HRMS can be much better spent elsewhere. It takes an average of 37 days to fill a vacancy. During those 37 days, how much productivity is lost?

Only you can calculate the effects of an open position. But even by the most conservative estimates, it's a considerable cost to your organization in time, money and talent. The more time you can save on routine tasks, the more time can be devoted to finding and hiring talented people.
Ease Human Resources Worries
Diversity issues, training, attendance, productivity...these and other issues keep many HR managers up at night. With so many things to think about, putting into place solutions like HRMS makes sense.
HRMS enables you see at a glance if your organization is adhering to diversity and other hiring policies. You'll be able to generate data on multiple issues so that you can assess the situation quickly and make decisions based upon data.
HRMS: What Can It Do for You?
HRMS offers many benefits to companies of all sizes, but especially to small and mid-sized companies. Some of the benefits this solution offers includes:
Seamless integration of employee benefits, payroll, performance reviews and applicant tracking into one interface.

Saves time and effort for your staff.

Improves compliance and ensures that you are empowered with information related to compliance and other employment regulations.
Access to all information from one interface makes the task of your human resources professionals so much easier. Combinations of data can also be used for effective decision-making. Used in conjunction with other data reports, HRMS offers a powerful tool for personnel planning and strategy.
Blog: Planning HRIS Implementation
Save Time Today: Call BAASS Business Solutions. BAASS Business Solutions offers HRMS and other data solutions that can help your business run more effectively and efficiently. With many years of experience, we can help you analyze your organization's data needs and propose a solution that saves you time.
Please contact us today for more information or to discuss your data needs. Call 1-866-260-5302.