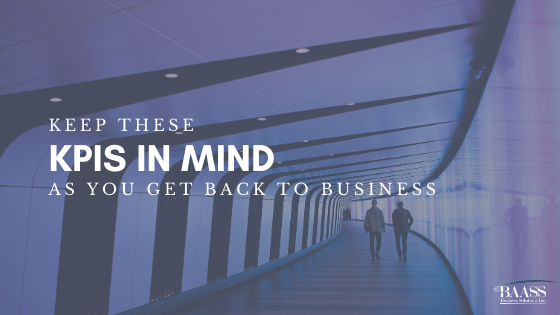 Businesses are beginning to reopen, but as we know -- this is a gradual process, as many are trying to take the appropriate precautions while doing so. With the business landscape filled with uncertainty due to COVID-19 and potential second waves, it is important to remain vigilant and agile.
Key performance indicators (KPIs) are a critical aspect of tracking and evaluating your organization's progress towards achieving business objectives. KPIs can be implemented across an organization's various departments and levels. The changes in place to reduce the spread of the virus have made it paramount to keep your KPIs updated, ensuring that they are still relevant to your organization and its goals. During this process of reopening, KPIs can contribute to keeping your business on track.
While there are thousands of KPIs that you can track, it's important to narrow down the scope of your KPIs to ensure that they align with your organizational goals. For this reason, we will cover three KPIs to keep in mind as you get back to business:
Customer Conversion Rate
You may have observed that consumer behaviour has drastically evolved due to COVID-19. With changed priorities, your customers have potentially shifted to different points of the buyer's journey. This KPI involves keeping track of the prospects that you are able to convert into customers. Considering that your organization's reach is likely to have differed from what it was at the beginning of the year, this KPI should be something you keep in mind. It is important to clarify what this means for your business, and how you can track the number of prospects you are acquiring -- is it by subscriptions to your website or by obtaining a prospect's contact information?
This KPI is a good indicator of how your company is performing. This is especially important as your number of customers and prospects is likely to have been greatly affected by the pandemic. Perhaps a low conversion rate can prompt you to revamp your website, alter your messaging or improve your online presence.
Calculate Customer Conversion Rate:
Customer Conversion Rate = (# of Customers Converted/# of Prospects)*100%
Gross Profit Margin
You have probably heard of Gross Profit Margin, even if you are only familiar with a handful of KPIs . With various regulations and changes implemented to mitigate the spread of COVID-19, many have taken advantage of the opportunity to revise their budget. Your costs and stream of revenue could have fluctuated too. Keeping track of this metric can help your organization adjust your prices and costs accordingly to help you maintain profitability. Some organizations have strategically decreased their offerings during this time to focus on their products with the highest margins. If you're noticing a decline in your Gross Profit Margin, you should re-evaluate your costs to see where they can be decreased.
Calculate Gross Profit Margin:
Gross Profit Margin = [(Revenue - COGS)/Revenue]*100
Repeat Purchase Ratio
As a result of the pandemic, customers have been reallocating their spending due to a change in personal priorities. As mentioned before, you may have determined your customers have shifted stages in their buyer's journey. For this reason, it can be helpful to track your Repeat Purchase Ratio; as the name suggests, this KPI is an indicator of the portion of returning customers you have. This metric provides you with an idea of your customer retention. With the higher costs associated with acquiring prospects, having greater customer retention can also help reduce the expenses of your organization. This is especially important as many businesses are being faced with reduced streams of revenue compared to this time last year.
Calculate Repeat Purchase Ratio:
Repeat Purchase Ratio = # of Returning Customers/# of Total Customers
Learn about 3 Ways CRM can Help Your Business During COVID-19.
Conclusion
As you closely monitor your organization, it is important to consistently monitor and review your KPIs to evaluate your organization's performance against its goals. Keep in mind that certain KPIs can become obsolete and irrelevant over time -- while reviewing, ensure that you are also considering the usefulness of the KPI at hand as your surrounding environment rapidly changes too. Depending on the nature of your organization, certain KPIs may not apply. For this reason, KPIs should be carefully selected for your unique business needs and goals.
Looking for more KPIs? Download our list.
Visit BAASS to explore software solutions that can help your organization as you get back to business.