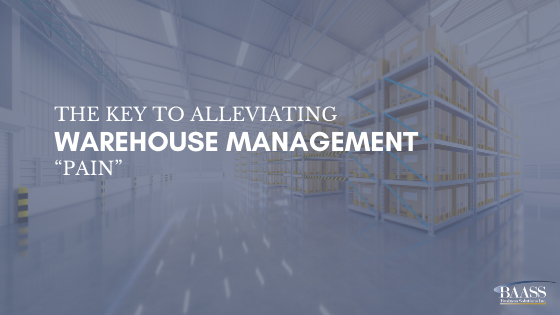 Can you name the top pain points in your warehouse? If you are like most warehouse managers, these warehouse management "pains" are generally not far from your mind. Anyone who is in the manufacturing and distribution industry knows that warehouse management comes with its fair share of challenges and frustrations. In fact, they are inevitable in the business.
The following warehouse "pains" are the most common – and most challenging to correct. Do any of the following sound familiar to you?
Shipping Delays
Shipping Errors
Data Inaccuracies
Lengthy inventory counts
High labor costs
Bar Coding Cures Warehouse Management Pain at its Source
Finding ways to alleviate the above challenges and frustrations is what sets apart the successful from the rest. If your company is losing profit due to time-consuming processes and redundant activities, it is time for you to try something new.
In warehouse management, eliminating waste (or redundant, time-consuming activities) is essential to success. In order to do this, you must have a system in place capable of eliminating wasteful activities and streamlining necessary processes.
Looking for some tips?
Warehouse Management Tips: Picking and Packing
Bar Coding technology can replace your manual processes and improve your warehouse inefficiencies by automating even the most complex tasks. From the receiving dock to the warehouse floor to the delivery truck, bar coding technology makes it easy to track products as they move throughout the warehouse and ensure they end up in the proper locations.
Improving the productivity situation of your warehouse takes time and attention; however, it is worth the effort. Contact us today to discover how you can alleviate the pain points taking up your precious time and attention.
Looking into implementing a WMS solution?
3 Reasons Why Your Company Needs a Warehouse Management System (WMS)