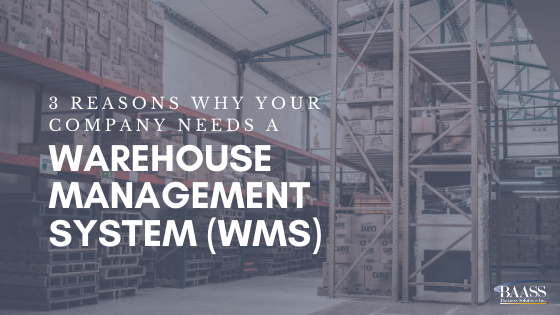 "Jerry" didn't understand why inventory costs were creeping up while sales remained steady. He contacted his warehouse manager, who showed Jerry that they were indeed low on stock again.
Jerry approved a reorder with a nagging sense that something was wrong. It wasn't until he'd put into place a new warehouse management system that he discovered why he was leaking money: a temporary worker was stealing items from the warehouse and reselling them.
While Jerry's story is fictional, it's also representative of what many managers go through each month as they review their company's figures. It's painful to think about employee theft, but it's a reality for many warehouse managers and manufacturers around the world. Theft, mistakes, incorrect shipments.... all of these can take their toll on your business' profitability.
A good warehouse management system may not be able to stop temporary employees from helping themselves to a shipment or two, but it can provide you with accurate, real-time data that can make spotting losses faster and easier. More importantly, it can provide you with other information such as scheduling, packaging tracking and more to help you run this aspect of your business more efficiently.
Three Benefits of Warehouse Management Systems
There are many reasons why your company can benefit from a warehouse management solution. These three offer some of the most common reasons why companies implement such systems.
#1: Better Inventory and Shipping Data
It's hard to improve on systems when you can't pinpoint the gaps. Warehouse management systems can improve your access to inventory and shipping data so that you can spot problem areas and develop solutions. If there's a bottleneck, you can find it. If there's a delay, you can investigate it. With good warehouse management system in place, this information become much easier to obtain and you can act more quickly on it.
Here are 4 Surprising Benefits of Barcodes!
#2: Improved Customer Service
Customers don't want to hear "I don't know" when they ask where their shipments are. When you have a warehouse management system in place, you can answer confidently when they ask where their shipments are in the process. You can track shipments and packages, provide more accurate arrival dates, and help your customers manage their inventory, too. It's improved communications that leads to better customer service.
#3: Greater Competitive Advantage
Companies with better warehouse management offer customers something extra in their service package. That competitive advantage should not be underestimated. Sometimes it's one of only a handful of things that set you apart from your competitors. Whatever you can offer to win business, you should. With warehouse management solutions, you can remain highly competitive and offer your customer better shipping and delivery information. It may seem like a small thing compared to other factors, but it could be the deciding factor with an important customer.

Read about how ProMax Auto Parts leverages their WMS solution!

Warehouse management solutions offer manufacturers an unparalleled package of solutions. These include warehouse management, automated data collection, business intelligence, scheduling, package delivery information and more.

When each of these components feeds into your enterprise resource planning system, you can glean deeper insights into the performance of your entire warehouse and shipping operation. Boost productivity, shorten order times, and reduce costs.

To learn more about solutions for manufacturing, contact us today.