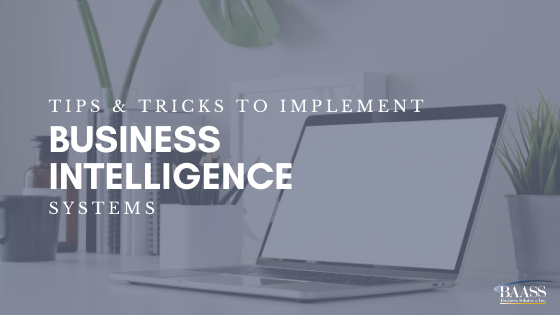 It's exciting to finally take the plunge and choose a business intelligence system. To get the most out of your new resource, these tips and tricks will help you implement your BI system for maximum efficiency and benefit. Get the most out of your BI system by prioritizing, focusing, and using it to its fullest.
Blog: What is Business Intelligence?
Tips and Tricks: Prioritizing
The first thing to do is prioritize your needs for the new BI system.
What information is essential to obtain from your new system?
What is a nice to have, and what is a nice but not essential?
The answers to these questions will help you focus on the right data inputs to add to your BI system, as well as focus your reporting needs on what's essential to achieve your business goals.
Another trick to help you prioritize your BI goals is to ask yourself, "What do I gain by having this feature?" If you can list gains that directly align to your group or department goals, then the features support your overarching business objectives and are probably worth including in your BI priorities. If you can't align BI features with corporate goals, then it's likely it is a 'nice to have' instead of a 'must have.'
Tips and Tricks: Keeping Data Clean
Your BI system will only be as good as the data that is entered into it. Many companies struggle with keeping data "clean" as it is input into the system. To help keep your BI data clean and accurate, consider taking the following steps:
Assign specific people to data entry tasks.
Conduct random quality checks to catch errors.
Allow only designated individuals to change information already in the system.
Ensure that the database is updated regularly - do no let too much time elapse between updates.
Tips and Tricks: Getting the Most from Your BI System
Setting up your system correctly and entering accurate data is important. But you'll want to get the most from your BI system from day one. That's where these tips and tricks come in handy. You'll be able to see the benefits of your BI system immediately as you use these tips with your new system.
Include BI with your existing tools that are still useful.
Integrate BI, ERP, CRM, and other tools to get the maximum benefits from integrated systems.
Talk to BAASS Business Solutions about upgrades and updates on your current system and be sure to update your system once you've implemented it.
Train everyone in the organization to use the system, but spend more time training specific groups on system functions that are critical to their job success.
Business Intelligence Systems Changing the Face of Business
As more companies embrace the benefits of BI systems, their impact will be felt throughout many industries. Improved insights into company information, enhances real-time reporting features, and the ability to quickly assess progress towards goals are all some of the many benefits derived from BI systems.
Read about how Organ Recovery Systems leverages their BI solution!
BAASS Business Solutions
Great BI systems begin with the right partner by your side. At BAASS Business Solutions, we help companies choose and implement exceptional BI systems that meet their needs. Please contact BAASS Business Solutions at 1-888-650-5544.