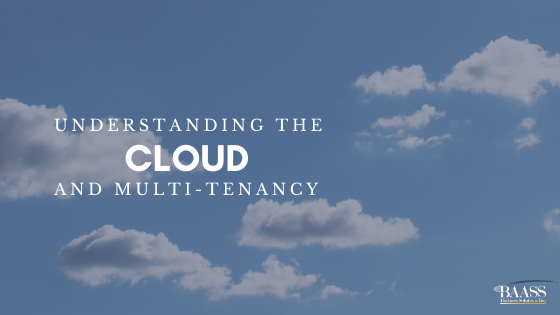 You have likely come across the term "the cloud" repeatedly; however, what is it exactly? Basically, cloud computing refers to the storing and accessing of data and programs over the Internet instead of your computer's hard drive.
---
When you store data on or run programs from the hard drive, that is considered to be local storage and computing. Everything you need is physically close to you. This means accessing your data is fast and easy, for that one computer or others on the local network. Working off your hard drive is how the computer industry has functioned for decades.
About Cloud Computing
In a big business, you may know all there is to know about what's on the other side of the Internet connection. However, as an individual user, you may never have any idea what kind of massive data processing is happening on the other end. The end result is the same: with an online connection, cloud computing can be done anywhere, anytime.
The cloud has evolved into a reliable service for organizations to leverage. The many advantages of cloud computing have urged many to consider adopting it at their organization if they have not already. The 3 types of cloud are private cloud, public cloud, and hybrid cloud. Data is stored on servers, networks, and data centers.
There are many benefits of moving to the cloud. For one, you have access to all your data in real-time, essentially anywhere. The nature and heightened accessibility of cloud computing can enhance collaborative efforts within your organization.
Moreover, costs can be saved as there is no longer the need to maintain physical servers and infrastructure in-house. Instead, vendors are responsible for managing the systems in their own data centers. Unlimited storage capacity and automatic system updates allow for easy growth and scalability.
Cloud computing can also involve utilizing virtual machines. Virtual machines are often responsible for running SaaS cloud services and getting the service to the end-user.
There are many examples of the cloud and cloud platforms. In fact, many of you are using it now: Google; Twitter; LinkedIn; Netflix; online banking; Facebook; Amazon; iCloud; Microsoft Office Online and more.
In our world, the accounting and business software world, the word "multi-tenancy" gets thrown around in conjunction with the cloud. When you are considering a move to the cloud, this is an important concept to understand. Software solutions such as ERPs and CRMs can be run as multi-tenant SaaS applications. In the next section, we will share more about this concept.
Multi-tenancy Defined
Multi-tenancy is an architecture where one instance of software serves multiple customers. Each customer is a tenant. Essentially, one operating system supports multiple tenants in this context.
This can occur through a public cloud service or a private cloud service. On the contrary, single-tenancy is where software and its infrastructure supports only one customer (tenant).
Although tenants share the same resources and infrastructure under multi-tenancy, all of their data is segregated from each other, and customers do not interact. Additionally, each tenant can have varying privileges.
Tenants may have the ability to customize some parts of the application, such as the colour of the user interface or business rules. However, they cannot customize the application's code. As such, multi-tenancy is less customizable and has less flexibility relative to single-tenancy. Typically, multi-tenancy cloud computing is offered as a software as a service (SaaS).
(Source: "WhatIs.com" – multi-tenancy definition)
The Benefits of Multi-tenancy
After reviewing the differences between multi-tenancy and single-tenancy cloud computing, it is important to note that each has its own advantages and disadvantages. Next, we will share some of the advantages of multi-tenancy.
For one, it can be more economical, relative to single-tenancy, because software development and maintenance costs are shared with the other tenants. This is due to a concept called economies of scale. With multi-tenancy, vendors are able to provide services, and thus offer services, for cheaper.
Due to the nature of multi-tenancy, this can also be a more beginner-friendly option as it has fewer start-up requirements. As such, it is quicker to set-up in comparison to single-tenancy cloud computing. Furthermore, when an update or a patch is applied, it gets applied once and affects all tenants. By sharing amongst multiple tenants, this can also be a more efficient use of infrastructure.
Furthermore, without the need to manage and maintain software infrastructure, attention and resources can instead be diverted to other areas of business. Easy scalability is an additional benefit that can be reaped from taking the multi-tenancy approach.
There is a concern that when data is in the cloud or in a multi-tenant environment that there is a higher risk of data being exposed. In other words, people worry about cloud security and the security of their data. The cloud and multi-tenant service providers put a lot of expertise and resources into making sure their cloud infrastructure is as secure as possible. After all, it's their business, and it's their reputation at stake.
Providers go to great lengths to ensure the security of their cloud storage offering. For one, this means ensuring that your data does not get exposed to the other tenants. They build and test their software to design out the risk of these data leakages.
Summary
When you are considering a move to the cloud, it is important to educate yourself on what is involved in the process. This ensures that you are successful and your data is safe. Furthermore, evaluate whether or not the cloud is the right fit for your organization.
Factors such as compliance and regulations can impact your transition to cloud computing. Research the cloud offering you are considering as well as how their multi-tenancy architecture is structured and supported. Lastly, disaster recovery planning is an important aspect to consider.
BAASS Business Solutions is well-versed in both the cloud and multi-tenancy. One of our offerings, Sage Intacct, is a cloud-based accounting system. If you would like to learn more about our cloud computing services, feel free to contact us directly.