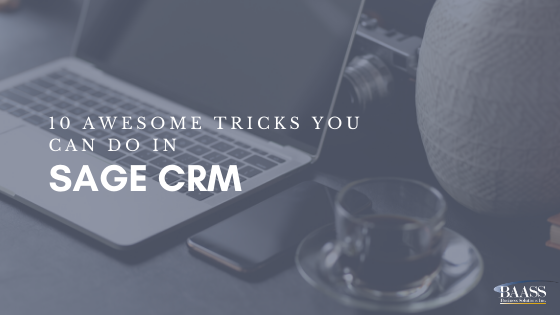 Many of our customers use Sage CRM to help their sales, marketing and customer service teams build more profitable relationships every day. It is a full-featured, web-based CRM solution that is easy to use and quick to deploy. In this blog I will outline 10 things that you may not have known you could do within Sage CRM. Hopefully you can learn something new that will improve your user experience of Sage CRM.
Use the Recent Button. By clicking on the Recent Button on the side menu of your Sage CRM you will see a menu of the most recent activities you have performed. It will include company searches, people searches, campaigns, cases, opportunities, leads and groups pulled. This can save time instead of re-typing your search criteria or remembering who just logged a case, etc.
Right Click on the Main Menu Items. You may already know this but right clicking rather than left clicking will give you all the options you need to perform an activity quicker. To find a company, right click the Find button and a secondary menu will appear where you can select the entity that you want to search within. Another great time saver.
Customize your finders or add fields. Add a field to your search options in the administration tab under customization. Select the entity you want to add to, hit screens along the top menu - tick the Inline Customization box. From there, go to the menu item you want to search for and the 'customize screen' option should be visible. Click on that and select the field you want to add. We can help with any customization's you want to make if you have difficulty, just call!
Save your searches.

If you do a search for companies by geographic location, you can then save that search for future reference. Once you have run the search, simply click on this button and name your search. It will be available to you from a drop down menu from then on right beside the save search button. This is a great tool for marketing to your specific target market.

Create your own reports and add them to your favourites. Select the desired category first or create a new one if you wish. To create a new category look up to the top right corner of the reports screen for New Report Category. Once you have created that you will see the option to create a new report. On the list of reports in each category you can tick a box for favourite. Ticking this will add it to your favourite reports for faster reporting next time.
Set your preferences in MyCRM. You can choose your own preferences like which screen you want to appear when you log in by changing your system preferences. Right click on MyCRM and click on the Preferences tab.
Static V Dynamic Groups.

You may already know that when creating groups you have two choices; Dynamic or Static. Most will choose dynamic as it updates itself automatically whereas static must be refreshed manually. What you might not know is that the static group allows for excluding individual contacts from the group easily before performing an activity with the group. See the exclude column in the image - which is not available in the dynamic groups.

Create a group from a search. Perform your search using the desired criteria. Once CRM has pulled all of the information, look up to the top right corner for the option Create a Group. Give it a name and a description and that group can be found in your groups tab where many activities can be performed like setting a new task, sending an email or exporting the group to excel.
Drag and drop appointments in your CRM Calendar. Did you know that you can drag and drop appointments in Sage CRM? In the calendar view, drag one appointment to another date and drop it in. No need to go into the appointment itself and change dates manually! This one is a personal favourite.
Meeting Planner - Easily tell if people are available for a meeting using the meeting planner when adding them to an appointment. Within the appointment look for the meeting planner tab after you have selected the person you would like to add. The meeting planner will show if their schedule is free at the time and date selected for the appointment without having to go searching in their calendar.
If you would like help customizing your
Sage CRM
please give BAASS a call and we would be happy to help! If you would like more info on getting
Sage CRM
for your organization please
contact us
.