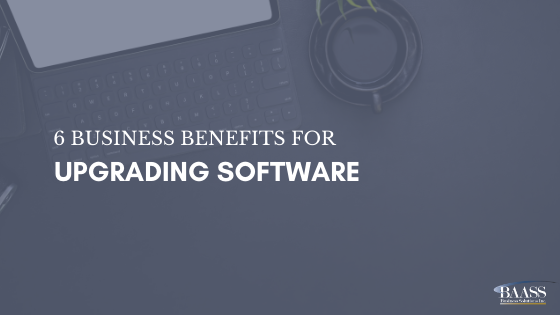 The decision to upgrade your Enterprise Resource Planning (ERP) software can be a difficult choice. Many businesses see that their current solution is running "fine" or they can deal with areas it is insufficient, however, there are associated expenses to remaining on old software, and you may be missing out on more than you are aware of. Upgrades deliver improved functionality and other important features that you shouldn't ignore, at least not long term. In this blog we will discuss the benefits of upgrading your ERP solution and why it is important to stay up to date.
Features and Enhancements
With upgrades often comes new features. Your business could be missing out on a new feature that could help to simplify a process, create insight into data that may not have been accessible prior and more. In many cases, there are also significant improvements to features that you are already using, for example when upgrading Sage 300 to a subscription model there are various web screens available that otherwise, you would not have access to.
Improved Connectivity
Upgrades in software can improve connectivity by linking systems, automating key functions, and boosting responsiveness. This can lead to better demand forecasting, precise inventory management, increases in efficiency and opportunities both for cost reduction and production. If you are currently running various software solutions to complete tasks, upgrades may help to eliminate communication errors, and silos or even gain the capability to complete tasks in one solution. Being able to have one source for all business data helps to improve data accuracy and reliability.
Cost Savings and Greater Efficiency
Process automation that is up to date will have higher efficiency levels than one that is out of date, slow, or disconnected. Upgrades can often help to reduce time, effort and resources spent on daily, repetitive tasks, freeing up employees to focus on more meaningful work. Simplifying business processes and bringing greater connectivity across an organization through standardization.
Easier Reporting and Planning
Upgrades may give access to new reports or reporting tools, as well as the ability to better forecast with new features available. Upgrades in reporting can help to improve overall business functionality by increasing accuracy and reliability. Many newer softwares have features such as dashboards or interactive reports which may be available within your solution or as an extension. As mentioned before there may be new ways to communicate with other solutions or programs to improve transparency and operational visibility.
Improved Compliance
ERP facilitates regulatory and security compliance processes by combining secure and valid data. It also assists with producing information and spotting exceptions, when your ERP solution is up to date it helps to ensure you are being compliant with current regulations and have access to all features available to simplify the process of doing so.
Support
As systems age, you may find that you are lacking support options and availability. Publishers will overtime push their customers to upgrade to the latest version of the software by offering limited support, or no support altogether. It is important to make sure you do not fall under the category of no support in the case something goes wrong. When you are lacking support there is no longer a "quick fix" solution, and upgrading before you are unsupported will help to avoid having to rush the process in order to fix an error.
Closing
In conclusion, your current ERP solution may be lacking resulting in missed business opportunities and growth.. This can be negatively affecting your business due to lack of connectivity, inefficiencies, support and more. It is important to stay up to date with software upgrades as it will ensure your business is running to its full potential and will avoid errors that may arise with an outdated solution. With support changing to ensure the newest versions are working as desired, it is important to recognize your solution may lose support options and lead to larger expenses down the line.
Please note that in some cases companies may outgrow their basic accounting or legacy ERP solutions altogether; regardless of the upgrades available. Check out our blog to learn about the telling signs your business is outgrowing your current system.