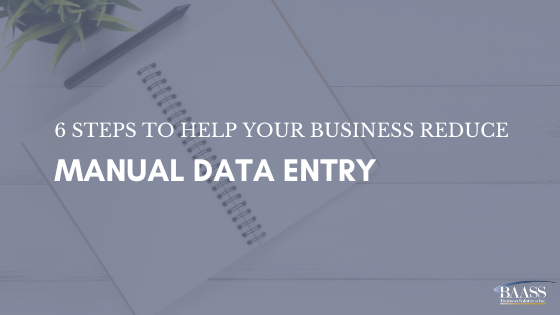 More and more businesses are adopting new technology and automation to improve efficiency and accuracy. However, it may seem like a daunting task to adopt new processes and leave your traditional ones in the past. Accounting is a department that can highly benefit from automated systems by eliminating manual data entry processes, which can free up availability and resources for your organization. In this blog, we will discuss why businesses are moving away from manual data entry, and the steps to begin your journey to automation.
Manual Data Entry
First, let's discuss why businesses are choosing to move away from manual data entry. The biggest benefit of data entry automation is reducing human error in meticulous or repetitive tasks. Regularly when a business has manual entry their data lives within Excel Spreadsheets. Unfortunately, spreadsheets do not have the restrictions and features in place to catch errors instantly; a study found that 88% of spreadsheets contain at least one error.
Manual data entry is not only susceptible to human error but also is a time-consuming business process; especially on the day to day. Automation helps eliminate manual data entry and reduce the time spent on repetitive tasks, enabling businesses to reallocate resources where they need it most. When an error is made, even as small as a wrong formula in one cell it will alter the data your company relies on. It will likely then be difficult to uncover when and where the inaccurate data error happened.
With the functionality software automation brings, businesses can set restrictions and features to watch for errors and alert you exactly when something in the data is incorrect or missing; without needing to double check while entering data.
Some benefits of automation include:
Increased efficiency
Cost savings
Increase accuracy
Flexibility
Employee satisfaction
Competitive advantage
Room for Company growth
Note: it is important to do your research when introducing a new solution to make sure it is the right fit for your business for the long run. In order to ensure it will help to close the unique gaps that currently exist in processes or communication. Here are 6 steps on how to get started on reducing manual data entry errors:
1. Get the big picture & product selection
Before selecting a Software Solution it is important to create a checklist of things you want and need in a solution. Doing this will help to quickly address if a solution is capable of meeting your needs out of the box, or if there are add ons to fill potential gaps.
We suggest asking the employees who would be daily users of the new solution for their input as they are the ones that typically recognize inefficiencies and gaps currently. This will quickly point out any inefficiencies in your current operations and alert you to the features you should look for in a new program. Additionally, this has the added benefit of speeding internal buy-in when you do begin implementing your new software. Employees will be much more receptive when they have been involved in the decision-making process.
2. Establish a structured plan
It is important that once you have selected your desired solution, your business puts together a detailed plan. We suggest planning your implementation of the new software carefully to avoid your peak busy times. Many businesses feel compelled to change systems at the beginning of the fiscal year. However, this means you would be implementing your new system at the end of a fiscal year when your business should be focused on sales.
Have clear timelines with a project plan established to keep the project on time and on budget. Make sure your business runs various tests with the new software and that employees are familiar with the process before rolling it out to clients.
3. Executing plan and training
Once the plan has been implemented your business will need to introduce the new software to employees and clients. At this time we suggest hand-on training as well as in-house and remote support. Ensuring that individuals within the organization are comfortable navigating and using the software tools.
Again, we stress you do not rush this process. Taking the implementation slow and making sure everything is running smoothly, as well as understood throughout the organization will help for long term success.
4. Utilize your partner & resources available
The partner you choose to implement your software with will likely have experience with organizations similar to yours. This will enable them to use their experience and expertise to help navigate through issues or customizations needed. The software publisher will also likely have resources available to help with user experience; for instance, Sage University if you are implementing a Sage Software product.
At BAASS we share various resources with our customers to help them gain the most out of their solution, such as webinars and blogs. We also have our own development tools to fill common gaps our customers have faced in the past; check out our marketplace for more detail.
5. Manage expectations
Successful implementations are dependent on various factors, including compatibility with current needs and solutions. Make sure you consider the budget of the plan and assure employees that the new technology is to enhance current processes and improve efficiency rather than replace. Highlight features that will simplify their jobs and explain the opportunity it will give the company through automation rather than the manual repetitive tasks.
6. Anticipate
Be prepared for some bumps in the road and possible resistance. Any new system may have some difficulties while getting adjusted to the new processes. It is important to focus on training and resources available to uncover shortcuts, tips, and tricks in order to adapt to the system. Once you have your solution up and running your business and employees will likely wonder why they did repetitive manual tasks for so long in the first place!
The outcome
The automation of data entry will help your business save precious time, reduce costs and eliminate errors. Freeing up time and resources to shift the focus on opportunities and recurring revenue. Automating data entry will allow more time to focus on relationships and help grow business goals over time.
Remember, technology may not show an instant benefit. However, with time invested in internal training and support we can ensure your business will begin to see the various benefits over time.