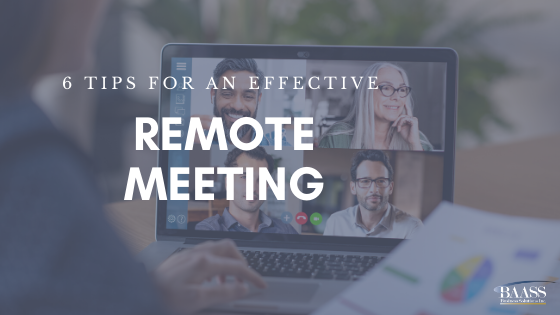 The impact of COVID-19 has proven to be a driving force in the way we conduct business in 2020. As we see our world-changing rapidly, virtual meetings and remote-working is evolving to be the status quo in many organizations. Although change can sometimes be a frightening notion, we turn to our personal experiences and lessons learned to continue to grow and succeed within the current environment.
If you are familiar with remote-working, you've probably experienced some less than productive virtual meetings. Whether you lost time to technical difficulties, find yourself struggling to talk over one another or just experience low engagement from your colleagues, you may be wondering how to hold a successful remote meeting. Here are 6 tips that can assure your virtual meeting goes smoothly, no matter how distant you are from your coworkers.
Prepare an Agenda
Similar to most meetings, whether virtual or not, it is always a good idea to have an agenda put in place and circulate it to your team in advance. This will give every person an opportunity to be prepared and add any items they would like to cover. If everyone comes prepared and has their talking points ready, this will help you maximize your time and complete your meeting in the allotted time. Just remember - once you have an agenda in place, you need to stick to it!
Test your Technology
Between Zoom, Microsoft Teams, Google Meet, GoToMeeting, BlueJeans, Ringcentral or any other video-conferencing tool you might use - it is very common to have technical difficulties. Each tool may have its own login credentials or updates that may require extra time and result in being late to the meeting. Remember to test the technology at least 5 minutes in advance of the meeting to assure you have no issues.
If you're a manager or in charge of running the meeting, make sure you have used this tool before to avoid blank screens or lost-audio which can be very disruptive to a virtual meeting.
Treat it no different than an in-person meeting
Although a remote-meeting may feel untraditional, it is still very important to be on time and respect the agenda. This means limiting small talk, in addition to being prepared with talking points. It is also a good idea to use video to see one another. This will make the virtual meeting feel no different than your traditional in-person meeting and allow you to see the body language of your team.
Discuss questions and feedback off-line
It is important to acknowledge all of the feedback and questions asked throughout a meeting, but remember the importance of staying on-topic and consider all of the participants' time. If a specific topic is not relevant to the entire team, consider the opportunity to discuss these items off-line. This will result in a smoother meeting and avoiding team members tuning out.
Write meeting notes
As our workdays continuously get busy, it is easy to forget certain action items or points made in every meeting. You never know what point could be crucial to success in the future. Assign one person to write the meeting notes during the meeting and circulate them after the meeting concludes. It is often a great opportunity to bring these items up in the next meeting as a springboard for a healthy discussion.
Keep everyone engaged
Consider having a different teammate drive each meeting. This will be beneficial for the growth of your team members by giving them the opportunity to lead a discussion. There is a tremendous amount of team-morale in allowing every member's voice to be heard. Especially with virtual meetings, it is easy to mute yourself and be quiet, but you will find a much more productive meeting by encouraging every person to speak.
If having different meeting leaders is not possible, consider giving every person an opportunity to speak during the meeting by calling their name. This will avoid talking over one another and make sure that everyone feels like they are contributing to the conversation. If the number of individuals in the meeting is larger than 5, encourage the team to use the chatbox and holding questions until the end or discuss them off-line.
We hope that these 6 tips will help any future virtual meeting to go smoothly.
Are you working remotely? Here are 5 Tips to Succeed at Working From Home.