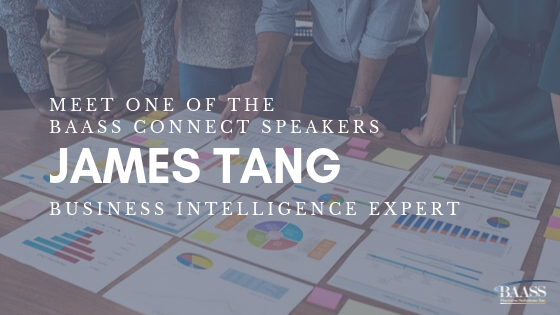 "By changing nothing, nothing changes." – Tony Robbins
In business, change is often a notion that comes with reluctance. The old saying goes, "If it ain't broke, don't fix it" applies to many of us as each fiscal cycle passes. Sometimes, an opportunity for improvement is among us and as technology becomes a more integral part of business, we must look to the future and challenge tradition with innovation.
We sat down with James Tang, one of the longstanding practice leaders at BAASS to discuss what the future holds for technology in finance and operations. What we found was that there is a huge opportunity for businesses of all sizes to position themselves for success for years to come. After our conversation, it was clear that this opportunity comes in the form of Business Intelligence.
What interested you to start a career in business intelligence?
I became interested in learning more about Business Intelligence and pursuing a career in this area after working with clients on their ERP system, who were struggling with extracting meaningful data. I understand that having to pull data manually from multiple places can be a headache in itself. I wanted to be able to help them reduce those headaches because I knew that there had to be a better way to handle the data.
Can you describe your position at BAASS?
At BAASS I am the Business Intelligence Practice Leader, which means I am the number one expert on Business Intelligence. I also lead a team of BI specialists who are available to help implement, train and support our clients. Alongside being a practice leader for BI, I am also a Sage 300 Consultant. When we boil it right down, I am aiding clients in realizing their needs and make them become a reality.
What is the biggest challenge you see clients have?
There are many challenges that clients will come to us for, with respect to their data and reporting needs. But some of the common challenges are related to not knowing what tools are available to them. The most common question I ask is - Do you currently use Sage Intelligence? The resounding answer is No. Additionally, most clients also are not aware of different ways that BI can help their organization outside of financial reporting.
Another common challenge is with clients who have compliance-related reports which are required to be sent. In most cases, these reports require data from multiple sources and can take several hours or days to complete. Unfortunately, human error can have huge implications with these types of reports.
What are the most critical changes that businesses must make to face the future effectively?
As technology advances and software becomes more robust, I encourage individuals to be open to change, and not to remain with the traditional way of thinking and gathering data. In most cases, the traditional ways are antiquated and are costing the individual and organization the most valuable commodity - their time.
What are some of the most interesting trends in 2019?
Artificial Intelligence & Machine Learning: Most people shy away from AI because they are concerned it will replace them. At BAASS, we do not believe that will happen, we believe AI will be able to foresee and predict trends or issues. This will allow for greater opportunities for growth and business security.
Tools for Predicting and Prescriptive Analytics: Instead of how we use data today, focusing on past analytics. These tools will allow a business to predict trends or pitfalls in their business.
Cloud and Connected Tools for BI: Gartner research indicates that the "public cloud services market is projected to grow 21.4% in 2018 to total $186.4 billion." That is only going to grow more in 2019 and beyond. The cloud makes it easier for organizations to capture and integrate different types of data. This means moving away from an environment where all data resides on-premises and into a more scalable, flexible infrastructure—either a full-cloud or hybrid solution.
How can our clients advance their Business Intelligence and ERP knowledge?
We make sure to share ample content about Business Intelligence and ERP. I encourage those to stay connected with our social media and blog for education information. We also have a series of webinars, access to host One-on-One demo sessions and One-on-One education sessions as well. But the best place to get more is by attending BAASS Connect. This year I have a variety of topics I will be covering from a BI newcomer to someone who is looking for more advanced reporting.
What is one piece of practical advice you would give someone starting out?
Be curious and always ask questions about the tools you have currently and what is out there that could benefit your organization. The second piece of advice is to explore the tools that are available to you. You may be surprised by the options that come with the out of the box software you have.
What is the best resources of people who want to dive in deeper?
To learn more about what James will be speaking about at BAASS Connect or how you can learn more about the event. Visit https://www.baass.com/baassconnect2019 today!
OUR BUSINESS INTELLIGENCE EXPERT
James Tang

James is a Senior Certified Consultant, Business Intelligence Practice Leader and a member of the management team at BAASS. James brings forth a high level of experience in Project Management, Business Analysis, and Technical Pre-sales. He holds a professional designation as a Chartered Professional Accountant (CPA, CGA) and is the IT Committee Chair of Toronto South CPA Ontario Association and Honours Bachelor of Commerce from the University of Toronto.