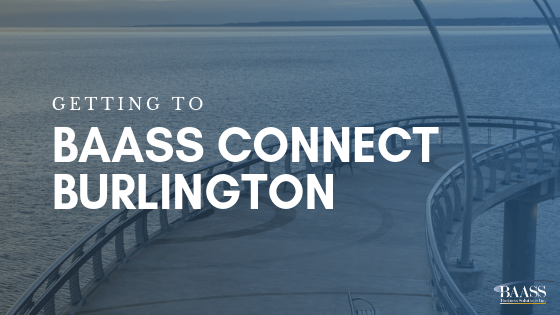 In preparation for this year's BAASS Connect Burlington, we have created a mini-guide to make your attendance to the event easier. We have compiled some nearby accommodations, restaurants, and recreational activities. Regardless of whether you are a local or coming from out of town, we hope you enjoy our suggestions and have a positive experience from BAASS Connect 2019.
Some Special Apps:
Before getting started, here are a few apps that can make your commute to this year's BAASS Connect easier:
Google Maps: This app is ideal for giving you the right directions to your destination, regardless of the method of commuting (walking, public transit, car). This app also has the option to check out traffic along your planned route.
Waze: This is a go-to traffic app for many. From this app, you can plan ahead and see which roads are congested, so that you're not late!
Burlington Local Transit: Feel free to hop onto their websites and see if there are options to plan your route. These features often give you multiple routes to get to your destination, the bus/subway number needed, the time needed to get to the destination (including pick-up and drop-off times), as well as the total cost.
Burlington, Ontario - November 13, 2019
Burlington Convention Centre
1120 Burloak Dr. Burlington, ON L7L 6P8
Getting to BAASS Connect Burlington:
From Burlington Go Station:
Accommodations:
Sandman Hotel Oakville
3451 South Service Rd W, Oakville, ON L6L 0C3
Some amenities include:
Restaurant
Pool
Free Parking
Free High Speed Internet
Bar/Lounge
Wheelchair Access
Business Centre with Internet Access
Fitness Centre with Gym and Workout Room
Recreation
A short drive from the venue will take you straight to a serene trail by the waterfront. Along the trail are many scenic spots, perfect for pictures. Although there will be other pedestrians, you will not find the destination overwhelmingly crowded. When it's warm, you'll often find people jogging, walking their dogs, rollerblading, biking, and more. The trail will give you a beautiful view across Lake Ontario.
Art Gallery of Burlington - 1333 Lakeshore Rd, Burlington, ON L7S 1A9
13 minutes away from the venue gives you an opportunity to check out Burlington's art gallery. It will serve your craving for some artistic works, especially with its numerous exhibitions. You can view their website to find upcoming and past exhibitions. Aside from the array of art, there is also a gift shop and a cafe. On top of this, it is located by Lake Ontario, which can be closely viewed by the waterfront trail. The gallery is also conveniently by Spencer's at the Waterfront, in the case that you choose to dine there (you can find more information about this restaurant in the chart above).
Brant Street Pier - 1400 Lakeshore Rd, Burlington, ON L7S 1Y2
This pier is 137 meters over Lake Ontario, making it worthwhile to visit. This pier is relatively new and is a part of the revival of Downtown Burlington. During the year, there are various events that take place. If you are already taking a stroll along the Burlington Waterfront Trail, you might come across the pier, as it is accessible by the trail. Visitors often come by for beautiful scenic pictures and surroundings. This spot is approximately 12 minutes away from the BAASS Connect Burlington venue. At night, there is a colourfully lit beacon.
Mount Nemo Conservation Area - 5317 Guelph Line, Burlington, ON L7P 0A5
A drive of 16 minutes away will take you to Mount Nemo Conservation Area. Regardless of the season, visits are often for the great hiking trails and views. Note that there are hikes for everyone- reviews mention that even the short hikes are well received for its beautiful view from the top. This spot is also popular in the winter when the forest is lined with snow. There is a fee to enter the park, but this small fee provides you with access to all Halton Parks during the day.
Restaurants for Post BAASS Connect
| | | | | |
| --- | --- | --- | --- | --- |
| BURLINGTON | Address | Yelp Rating (/5) | Food Type | Distance from Venue |
| | 1340 Lakeshore Rd, Burlington, ON L7S 1B1 | 4 | Modern European | 11 min drive |
| | 3500 Fairview St, Burlington, ON L7N 2R5 | 4.5 | Greek | 8 min drive |
| | 950 Walkers Line, Burlington, ON L7N 2G2 | 4 | Seafood | 6 min drive |
| | 2180 Itabashi Way, Burlington, ON L7M 5A5 | 4.5 | Sushi Bar, Japanese | 7 min drive |
| | 3455 Fairview St, Burlington, ON L7N 2R4 | 5 | Seafood, Steakhouse | 8 min drive |
| | 710 Cumberland Ave, Burlington, ON L7N 3M9 | 4.5 | Sushi Bar, Korean | 8 min drive |