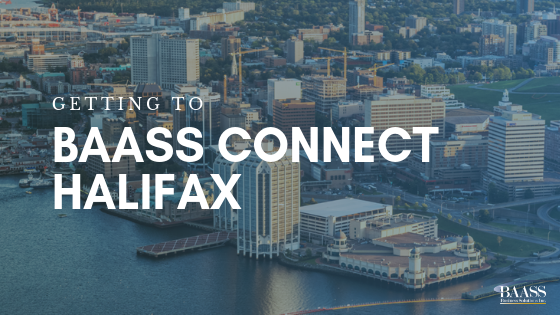 In preparation for this year's BAASS Connect Halifax, we have created a mini-guide to make your attendance to the event easier. We have compiled some nearby accommodations, restaurants, and recreational activities. Regardless of whether you are a local or coming from out of town, we hope you enjoy our suggestions and have a positive experience from BAASS Connect 2019.
Some Special Apps:
Before getting started, here are a few apps that can make your commute to this year's BAASS Connect easier:
Google Maps: This app is ideal for giving you the right directions to your destination, regardless of the method of commuting (walking, public transit, car). This app also has the option to check out traffic along your planned route.
Waze: This is a go-to traffic app for many. From this app, you can plan ahead and see which roads are congested, so that you're not late!
Halifax Local Transit: Feel free to hop onto their websites and see if there are options to plan your route. These features often give you multiple routes to get to your destination, the bus/subway number needed, the time needed to get to the destination (including pick-up and drop-off times), as well as the total cost.
Halifax, Nova Scotia - November 7, 2019
Location: Future Inns Halifax, 30 Fairfax Drive, Halifax, NS B3S 1P1
Getting to BAASS Connect Halifax:
From Halifax Stanfield International Airport:
From Downtown Halifax (123 King St, London, ON):
Accommodations:
Future Inns Halifax, 30 Fairfax Drive, Halifax, NS B3S 1P1
Some amenities include:
Free High Speed Internet
Free Parking
Fitness Centre with Gym and Workout Room
Restaurant
Pets allowed
Recreation
Peggy's Cove: Nova Scotia's most iconic lighthouse resides in Peggy's Cove. At 40 minutes away from the venue, Peggy's Cove has a fishing village, memorial monument, hiking trail, and more. This popular tourist destination has packed tour and excursion offers. Not only are there things to see and do, but there are many places to dine as well. Thinking of staying the night? Peggy's Cove has accommodations and campgrounds, just in case you wanted to sleep under the stars.
Halifax Public Gardens: This destination is 17 minutes away from the venue. This is the oldest Victorian Garden in North America! Located right in the heart of downtown Halifax, this garden spans 16 acres of land, giving you a refreshing break from the surrounding urban area. This garden was designated a National Historic Site of Canada in the year of 1984.
Stubborn Goat - The Stubborn Goat Gastropub, 1579 Grafton St, Halifax, NS B3J 2C3. Although not your typical recreational activity, this is a must visit. This eastern end of Canada is known for its seafood, so trying this restaurant's lobster is a must! At 19 minutes away from the venue, you can try their unique and famous Lobster Mac 'n' Cheese, along with various other dishes.
Restaurants for Post BAASS Connect
Restaurant

Address

Yelp Rating (/5)

Food Type

Distance from Venue

225 Chain Lake Dr, Halifax, NS B3S 1C9

5

Food truck, Mexican

2 min drive

287 Lacewood Dr #107, Halifax, NS B3M 3Y7

4

Tex-Mex, Mexican

6 min drive

1533 Barrington St, Halifax, NS B3J 1Z6

4.5

Canadian, Desserts, Wine Bar

22 min drive

480 Parkland Dr, Halifax, NS B3S 1P9

4.5

Sushi Bar, Ramen

3 min drive

250 St Margarets Bay Rd, Halifax, NS

4

Canadian, Burgers

8 min drive

7156 Chebucto Road

Halifax, NS B3L 1N4

Canada

4

Diner, seafood, breakfast & brunch

11 min drive

278 Lacewood Drive

Halifax, NS B3M 3N8

Canada

4

Chinese, Vietnamese

6 min drive