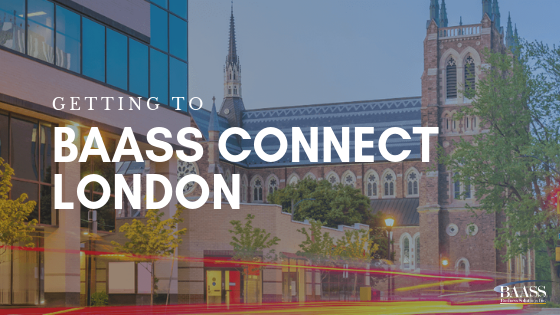 In preparation for this year's BAASS Connect London, we have created a mini-guide to make your attendance to the event easier. We have compiled some nearby accommodations, restaurants, and recreational activities. Regardless of whether you are a local or coming from out of town, we hope you enjoy our suggestions and have a positive experience from BAASS Connect 2019.
Some Special Apps:
Before getting started, here are a few apps that can make your commute to this year's BAASS Connect easier:
Google Maps: This app is ideal for giving you the right directions to your destination, regardless of the method of commuting (walking, public transit, car). This app also has the option to check out traffic along your planned route.
Waze: This is a go-to traffic app for many. From this app, you can plan ahead and see which roads are congested, so that you're not late!
London Local Transit: Feel free to hop onto their websites and see if there are options to plan your route. These features often give you multiple routes to get to your destination, the bus/subway number needed, the time needed to get to the destination (including pick-up and drop-off times), as well as the total cost.
London, Ontario - November 12, 2019
Location: Best Western Plus Lamplighter Inn & Conference Centre
591 Wellington Road London, ON, N6C 4R3
Getting to BAASS Connect London:
From London International Airport:
From Downtown London (123 King St, London, ON):
London Via Rail Station:
Accommodations:
Best Western Plus Lamplighter Inn & Conference Centre
591 Wellington Road London, ON, N6C 4R3
Some amenities include:
Pool
Free High Speed Internet
Free Parking
Fitness Centre with Gym and Workout Room
Restaurant
Bar/Lounge
Shuttle Bus Service
Pets Allowed
Wheelchair Access
Recreation
The Royal Canadian Regiment Museum - 701 Oxford St E, London, ON N5Y 4T7
Located only 5 minutes away from the venue, the museum has a collection of artifacts, archives, and other items. This museum offers up an educational opportunity to learn and emerge yourself within the history of the Canadian military force.
Exodus London Escape Rooms - 520 Wellington St #5, London, ON N6A 3R2
This location is only 2 minutes away from the venue. For those of you who are in search of something fun and exciting, check out London's Exodus Escape Rooms. Escape rooms have become a recent trend, as teams race to solve each unique room's puzzles until they find their way out, all within an hour. Each room has a different theme, offering up different challenges when you try each one. Be sure to book a room ahead of time for you and your group!
Covent Market Place - 130 King Street, London, ON N6A 1C5
Covent Market Place is a great spot that houses an abundance of restaurants and shops. It has actually been open since 1845! This is a great spot to check out, considering that it is only 4 minutes away from the venue. It is a spot that has a little bit of everything for everyone. There is even an outdoor farmer's market hosted twice each week, as well as a variety of events that occur throughout the year. There's no need to worry about the Canadian cold either, as there is an indoor portion of the market with shops inside.
Boler Mountain - 689 Griffith St, London, ON N6K 2S5
This is a recommendation for those of you who enjoy the outdoors, although located 18 minutes away. This is an excellent place to go, regardless of the season. Throughout the year, they offer services ranging from ziplining to snowboarding! Since BAASS Connect will be in November, there will be numerous open trails for skiing and snowboarding, as well as opportunities to do tubing and other activities. Don't worry about not having the equipment or knowing how to ski/snowboard, as they offer equipment rentals and lessons too!
Restaurants for Post BAASS Connect
| | | | | |
| --- | --- | --- | --- | --- |
| LONDON | Address | Yelp Rating (/5) | Food Type | Distance from Venue |
| | 476 Richmond St, London, ON N6A 3E6 | 4.5 | Pub | 10 min drive |
| | 200 Collip Cir, London, ON N6G 4L4 | 4.5 | Canadian | 20 min drive |
| | 349 Talbot St, London, ON N6A 2R5 | 4.5 | Tapas, Cocktail Bar | 10 min drive |
| | 192 Dundas St, London, ON N6A 1G7 | 4 | Ramen, Japanese | 9 min drive |
| | 644 Richmond St, London, ON N6A 3G6 | 5 | Middle Eastern, Mediterranean | 11 min drive |
| | 715 Wellington Rd, London, ON N6C 4R4 | 4 | Japanese, Sushi Bar | 1 min drive |
| | 623 Dundas St, London, ON N5W 2Z1 | 4 | Cafe, Bakery, Juice Bar & Smoothies | 9 min drive |