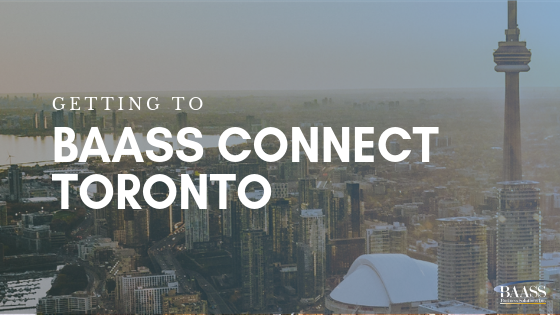 In preparation for this year's BAASS Connect Toronto, we have created a mini-guide to make your attendance to the event easier. We have compiled some nearby accommodations, restaurants, and recreational activities. Regardless of whether you are a local or coming from out of town, we hope you enjoy our suggestions and have a positive experience from BAASS Connect 2019.
Some Special Apps:
Before getting started, here are a few apps that can make your commute to this year's BAASS Connect easier:
Google Maps: This app is ideal for giving you the right directions to your destination, regardless of the method of commuting (walking, public transit, car). This app also has the option to check out traffic along your planned route.
Waze: This is a go-to traffic app for many. From this app, you can plan ahead and see which roads are congested, so that you're not late!
Toronto Local Transit: Feel free to hop onto their websites and see if there are options to plan your route. These features often give you multiple routes to get to your destination, the bus/subway number needed, the time needed to get to the destination (including pick-up and drop-off times), as well as the total cost.
Toronto, Ontario - November 14, 2019
Location: Bellvue Manor
8083 Jane Street, Vaughan, ON, L4K 2M7
Getting to BAASS Connect Toronto:
From Eaton Centre:
From Union Station:
Vaughan Metropolitan Centre:
Toronto Pearson Airport:
Accommodations:
Monte Carlo Inn: Vaughan Suites
Address: 705 Applewood Cres., Concord, ON, L4K 5W8
Some amenities include:
Restaurant
Free High Speed Internet
Breakfast Included
Bar/Lounge
Wheelchair Access
Business Centre with Internet Access
Fitness Centre with Gym and Workout Room
Recreation
Vaughan Mills Outlet Mall - 1 Bass Pro Mills Dr, Vaughan, ON L4K 5W4
Only 7 minutes away from the venue is one of Toronto's outlet malls. This mall houses over 250 stores and restaurants This mall is also surrounded by various smaller plazas too, with a variety of ethnic cuisines and shops. If you're from out of town, you may also participate and be eligible for their "VIP Visitor Shopping Experience", where you may get discounts from their retailers; please note that a valid photo ID is required to show proof of residency.
Captive Escape Rooms Vaughan - 155 Winges Rd #11, Woodbridge, ON L4L 6C7
If you're looking for some fun and play, check out this escape room! These rooms are eligible for groups between 2 and 12 people, and you get an hour of playtime. Check out their website for the details regarding their variety of room options, and the specific number of people allowed in each game. Escape rooms are a fun way to collaborate and solve different puzzles, within 60 minutes, to escape. Be sure to book a room through their website ahead of time!
Downtown Toronto
The venue is located only 4 minutes away from the Vaughan Metropolitan Centre. From here, you may access Toronto's subway system, which can bring you to the very core of Toronto. There are a variety of places you can visit and explore in Downtown Toronto, including:
CN Tower
Admissions required
Nathan Phillips Square - Toronto sign, Yonge-Dundas Square
Kensington Market, St. Lawrence Market
The Distillery District
Casa Loma, Royal Ontario Museum (ROM), Art Gallery of Ontario (AGO)
Admissions required
Toronto Islands
Shopping: Eaton Centre, Yorkville
Harbourfront Centre
Queens Quay West
Restaurants for Post BAASS Connect
| | | | | |
| --- | --- | --- | --- | --- |
| TORONTO | Address | Yelp Rating (/5) | Food Type | Distance from Venue |
| | 2900 Langstaff Rd, Concord, ON L4K 4R9 | 4 | Italian | 6 min drive |
| | 8383 Weston Road Vaughan, ON L4L 8L4 Canada | 4 | Italian, Steakhouse, Pizza | 8 min drive |
| | 3175 Rutherford Rd, Concord, ON L4K 5Y6 | 4 | Italian | 11 min drive |
| | 3540 Rutherford Rd #65, Vaughan, ON L4H 3T8 | 4.5 | Mexican | 13 min drive |
| | 688 Chrislea Rd, Woodbridge, ON L4L 8K9 | 4.5 | Smokehouse, Barbecue, Italian | 8 min drive |
| | 207 Edgeley Blvd UNIT 12, Concord, ON L4K 4B59 | 4.5 | Vietnamese, Asian Fusion, Noodles | 3 min drive |