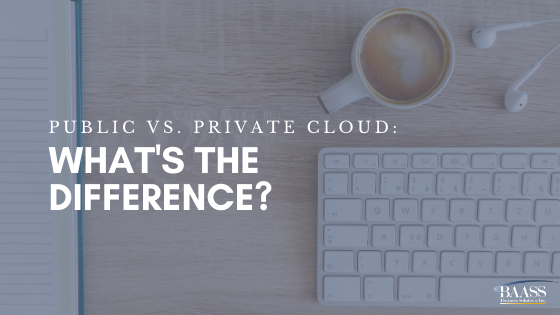 You've seen the term 'cloud computing' and have a basic understanding of what it means. Certainly, you understand the many benefits: no special hardware to purchase, no need to add costly infrastructure or support staff, and enhanced accessibility to your systems.
But, with the growing popularity of cloud, we pose the question for readers to get a better understanding of what it means to be on a private or public cloud.
We'll dive deeper into the meaning of each system, and outline the opportunities and costs associated with each one.
The Private Cloud: Your Own Private Network
A private cloud sounds idyllic as if you're floating away on your very own special protected island of fluffy white clouds. And that's essentially what private clouds are - a protected network, hidden behind a firewall, where your software can run undisturbed by anyone else.
Private clouds are also referred to as private or internal clouds. As the name suggest, these are owned by a company and maintained by that company for their own personal use. It resides on the company's intranet or data center and is protected by a firewall, a system that keeps out external access to protect your data.
Some companies like private clouds because they maintain sensitive, confidential data, and a private cloud reduces the likelihood that data can be accessed by outsiders. However, there are significant drawbacks to a private cloud. As you may have guessed, if something is private, it must be maintained by the owners.
Think of a public park versus your backyard: the town cuts the grass and plants the flowers in the public park for all to enjoy, but you are responsible for mowing the lawn and planting flowers in your own backyard because you control the access to it. In addition, you probably enjoy the privacy of having your own backyard. The same goes for the private cloud. If you host it on your own data center or intranet, you are responsible for the maintenance, upkeep, and security on that private cloud.
Over time, servers need to be upgraded and replaced. Security must be updated periodically. This requires technical support staff, whether in-house or independent contractors for time spent on monitoring and maintenance.
The Public Cloud: Share the Benefits and Costs
A public cloud is like the town park in our analogy. Many people share the costs of it through payments to third party vendors the way many homeowners pay taxes, some of which go towards the maintenance and upkeep of their park. Allowing everyone the ability to enjoy the park and use the facilities like the picnic tables, ballfields, and playgrounds as much as they want. There's room for all who have contributed to its creation and upkeep.
The same goes for the public cloud. Public clouds are data centers stored on the host's servers. You are not responsible for security, maintenance, or upkeep of these servers. Instead, you pay a fee to rent space or software, and that fee goes to pay the host for the electricity, servers, etc.
The costs of public cloud use are lower, and you get access to software upgrades much faster than purchasing site licenses and running the license on private clouds. Security is one area that some companies are uneasy with on public clouds, but your own data is kept completely segregated from other companies sharing the cloud. You may not have control over security on the public cloud, but so far, public clouds have proven to be highly secure.
Software that Runs on the Cloud
Much of the software that you use in your personal and professional life now runs on the public cloud. Social media is a great example of cloud software. Google Docs and Gmail are two common cloud-based applications that many people use for both personal and business reasons. The list goes on, but as you can see, cloud-based software is ubiquitous today.
Companies can run enterprise resource planning (ERP), business intelligence (BI), inventory management, warehouse management software (WMS), human resources software, CRM systems, and much more on the cloud. Cloud software improves access and affordability to many systems that were once out of reach for small to mid-sized businesses. By sharing space on the public cloud, businesses of all types can now improve productivity, increase sales, and build profitable distribution models using data derived from the cloud. It gives the term "rainmaker" a whole new meaning!
Blog: Is the Cloud Right for You? Consider these 5 Things.
BAASS Business Solutions
The cloud has indeed transformed many types of software, making them accessible and affordable for all. BAASS Business Solutions offers consulting and software for many industries and can help you choose from among a wide range of software products to help you manage your business efficiently. We work with many fine partners to bring you exemplary software solutions. Contact us or call 1-888-650-5544.