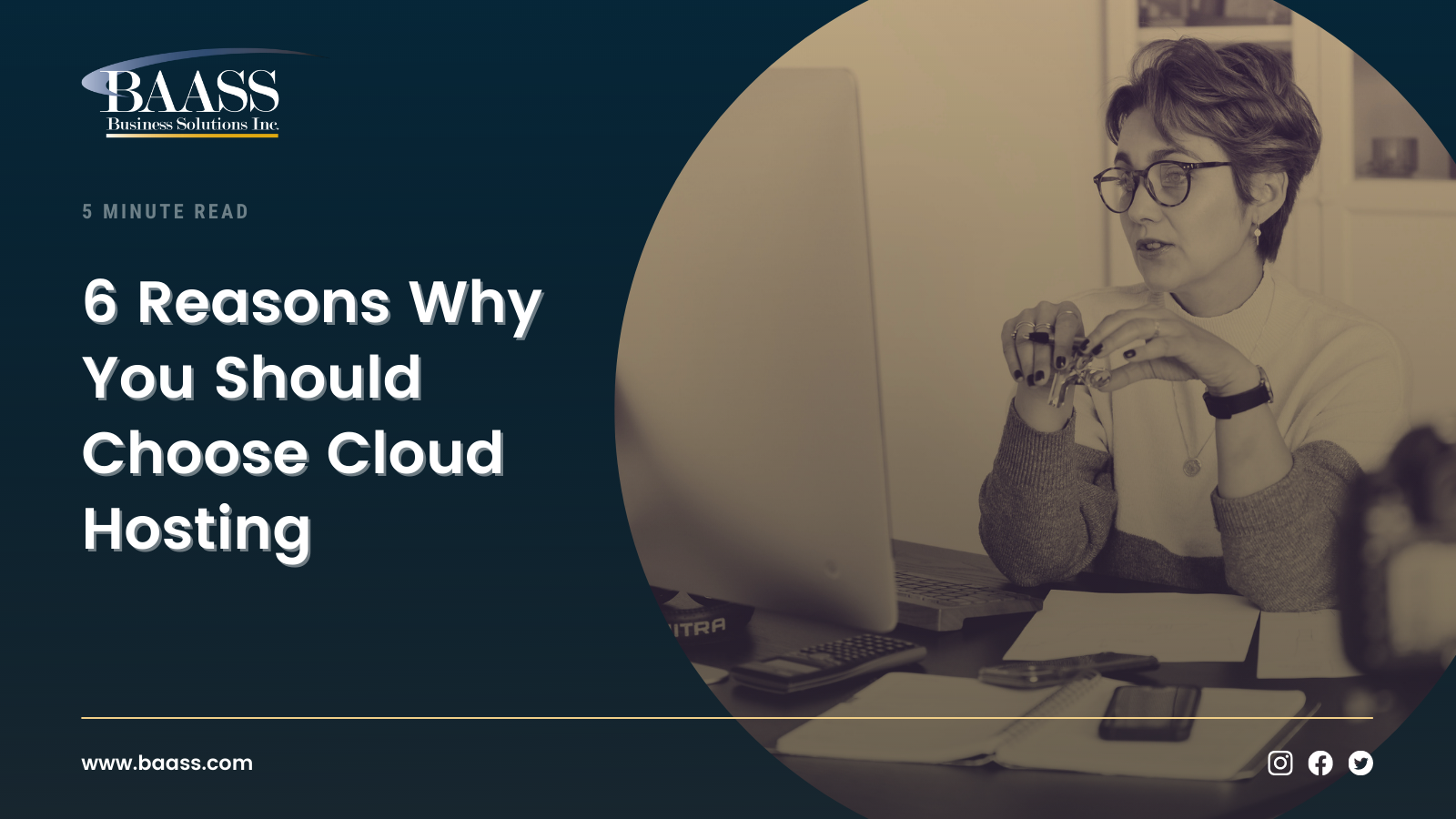 Nowadays, many organizations are shifting to the cloud to leverage the numerous benefits that come along with it. In the current landscape, the cloud is constantly being developed to further manage the needs of modern organizations. As you may have experienced, there are also many terms associated with the cloud that describe technical differences in it.
What is Cloud Hosting?
Cloud hosting encompasses the storage of your data across various servers. This makes it accessible from anywhere, providing that you have a device and an internet connection. Your cloud hosting services are often taken care of by vendors. Vendors store your data in multiple data centers around the world.
Cloud hosting is often compared and contrasted to traditional hosting. Traditional hosting includes dedicated and shared hosting. Organizations are increasingly looking for alternatives to traditional solutions. While there are certainly respective benefits to each hosting solution, we will be sharing why you should opt for cloud hosting.
Benefits of Cloud Hosting
Scalability & Flexibility
A significant advantage to cloud hosting is the scalability of it. This is especially beneficial for smaller organizations or companies that experience quick growth, like start ups. You can easily add or reduce various resources such as storage and bandwidth, according to the news of your organization. On the other hand, you would be unable to do the same with traditional hosting at the same ease and speed.
In addition, your organization is not bound to any servers that you otherwise would be due to traditional hosting. This is because with traditional hosting, you might be finding yourself opting for physically closer locations to maximize load times. On the contrary, cloud hosting servers are accessible with a device and an internet connection from anywhere.
Cost Efficiency
Cloud hosting is typically offered as a software as service (SaaS). Vendors are responsible for maintaining all necessary hardware. On the contrary, customers only pay for the resources or services that are being used.
Vendors can also offer various cloud hosting packages suitable for the needs of different organizations. You can research vendors and determine a cloud hosting plan fit for your business. Pricing can depend on various aspects, so there should be a suitable option for many organizations.
Since some cloud services can be shared amongst different businesses, this offers a lower cost option for organizations. Cloud hosting is a cost-effective hosting solution. This is especially beneficial for smaller organizations who can't afford to purchase and maintain hardware on site by themselves.
Your organization can also save on IT costs. Since hardware and servers are the responsibility of your vendor, there is no need to maintain or purchase hardware in-house. The SaaS nature of cloud hosting also reduces the need to make up-front purchases. In addition, traditional hosting can result in you paying more for resources that you aren't using.
Traffic & Uptime
With many connected and dedicated servers, you will have less downtime. In the case that a server fails, another one can simply take over. However, this is not the case with traditional hosting, which relies on a single server instead of multiple servers.
Once one server goes down, it can result in lengthier downtimes. With less downtime for your organization's applications and website, it can result in higher productivity for your team.
Downtime & Disaster Recovery
A benefit of cloud hosting is that the multi-server setup allows for automatic backups of your data. Even if an individual server goes down, there will not be any loss of information. Data recovery is an easy process for cloud servers.
On the contrary, with traditional hosting, all your data is on one server. If that server were to fail, disaster recovery would be much more difficult.
Ease of Mind
With the cloud, you generally work with a vendor or a server host. Vendors offer customer support and service to help ensure that your organization is equipped to focus on your operations. You have a trained and specialized team to help in case you are facing any technical issues.
Especially for smaller organizations who may not have a dedicated IT team, this can be a beneficial alternative. Some vendors may even provide 24/7 support to ensure that you have your needs met around the clock.
In addition, your vendors provide secure cloud solutions. This can reduce data security risks for your organization. Your vendor should be able to tell you about how your data is being kept secure. This can be in terms of their various policies or procedures in place to ensure security.
Collaboration
Many organizations have turned towards remote workplaces or hybrid workplaces. Essentially, a lot of employees nowadays are simply not in the office. With cloud hosting, employees can access any applications or data from anywhere. Of course, this is provided that they have a device and an internet connection.
This can enhance productivity at your organization. In addition, it provides your employees with a layer of flexibility when it comes to where they choose to work from. Cloud hosting can better support mobile teams. Your employees can access the same documents regardless of where they are, and work together on them as well.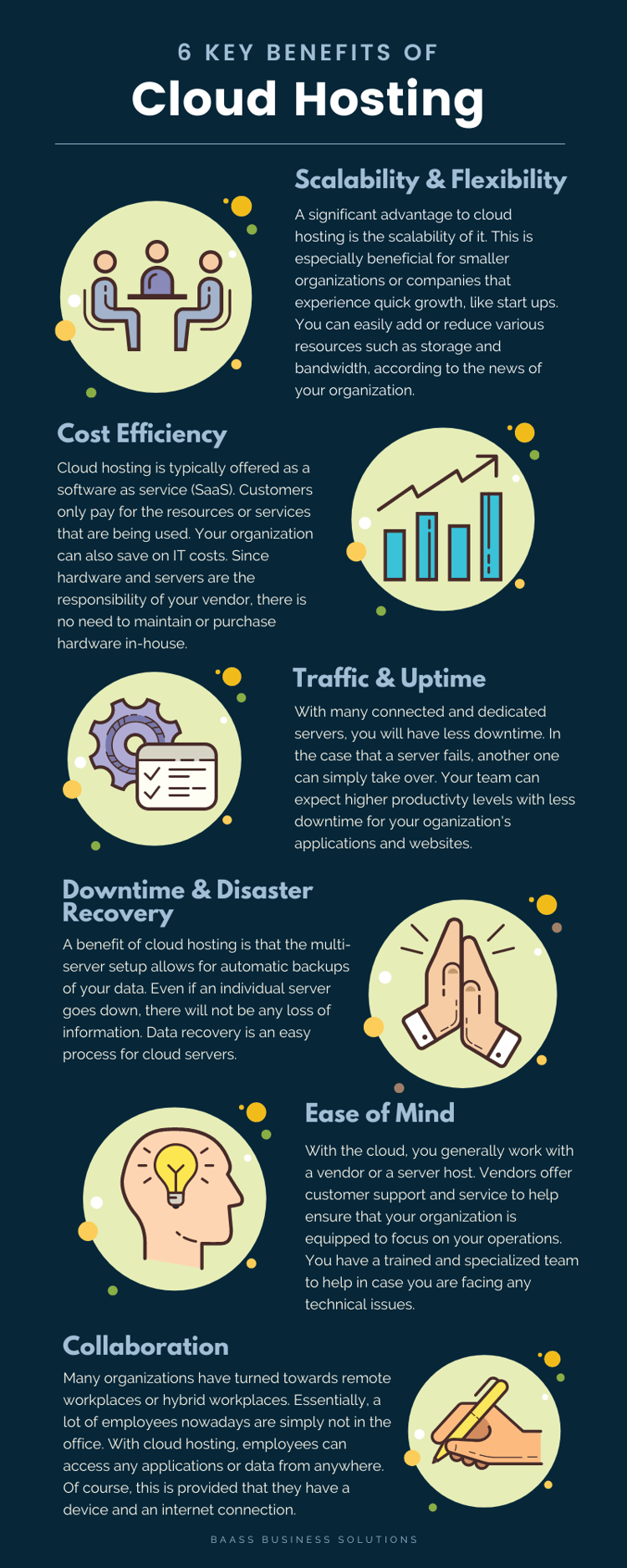 BAASS Cloud
We have developed our own cloud hosting option. Sage 300 Cloud Hosting with BAASS gives your business the complete functionality of your application from anywhere. We build a fully customized and dedicated server for your business. This includes:
A firewall
Managed security protection
7 Day support
We provide 24/7 automated backups with advanced security to maximize your up time. In addition, we make setting up your hosted environment simple and painless. With our service, it will be a turnkey set up for you. Furthermore, we will provide you with a dedicated team that's available to support your solution.
To learn more about BAASS Cloud Hosting, contact us today.
Are you considering the cloud?