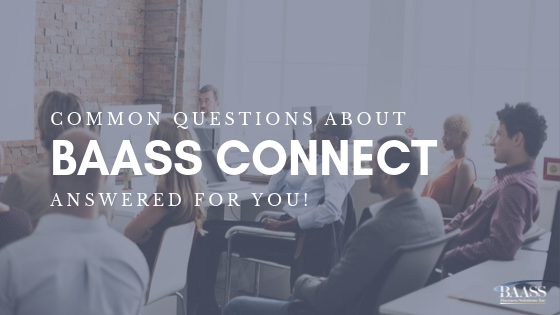 BAASS Connect is our annual conference which provides a space for industry professionals and decision makers to come together, talk shop and share ideas.
The conference gives you access to incredible resources, like one-on-one time with BAASS Product Managers, Technical Experts, Sage Specialists, and Executives — but why should you go? How can you attend? We answered some common questions about the long running function.
Where is BAASS Connect located?
BAASS Connect is hosted at 5 locations this year in Canada, including Halifax (November 7th), London (November 12th), Burlington (November 13th), Toronto (November 14th), and Vancouver (November 19th). For the logistics about getting to BAASS Connect, be sure to check out our blog posts: Getting to BAASS Connect 2019 - Halifax, London, Burlington, Toronto and Vancouver. You will also be able to find nearby accommodations, restaurants, and recreational activities for each of the 4 BAASS Connect venues.
For a quick reference, here are the locations of BAASS Connect 2019:
Halifax, NS: Future Inns Halifax - 30 Fairfax Drive, Halifax, NS B3S 1P1
London, ON: Best Western Plus Lamplighter Inn & Conference Centre - 591 Wellington Road London, ON, N6C 4R3
Burlington, ON: Burlington Convention Centre - 1120 Burloak Dr. Burlington, ON L7L 6P8
Toronto, ON: Bellvue Manor - 8083 Jane Street, Vaughan, ON, L4K 2M7
Vancouver, BC: Inn at the Quay - 900 Quayside Drive, New Westminster, BC V3M 6G1
What will I learn at BAASS Connect?
Learn about a variety of business solutions - topics include CRM, ERP, BI, HRIS, and more; there will also be industry-focused presentations. On top of the informative presentations during the event, you will have opportunities to speak with our BAASS team members for any specific questions you might have, giving you endless opportunities to gain information that you can take and apply to your own business. In a refreshing twist, there will be three tracks attendees can choose from: Educate, Innovate, and Collaborate.
What's the focus of this year's event?
This year's BAASS Connect will focus on the concept of "future-proofing". Learn from industry experts about trends happening in business technology that will put you in a position to grow and succeed for years to come. Want some information before our event? Be sure to check out our blog post: How Future Ready Are You? We want you and your business to be prepared for what's to come, so visit BAASS Connect to future proof your organization.
Who will be there?
Aside from our BAASS team, Sage Experts and fellow attendees, you will have access to our trusted partners who will be exhibiting throughout the day. Visit their booths to gain insights into their organization and how their tools may be the solution you need. Connect and converse with other industry professionals and leaders to see what they are facing and how they are overcoming any business challenges! The day is full of endless opportunities to interact and engage with other knowledgeable individuals of different backgrounds.
How can I get more information about BAASS Connect?
There are many ways to access information and updates about BAASS Connect:
Subscribe to our newsletter for e-mail updates
Reach out to your BAASS account manager
Contact us through our website
What will be offered at the venue?
Bring your appetite, because lunch will be provided at BAASS Connect! Alongside will be coffee and water refreshments to keep you going throughout the event. Aside from our presentations, expect to see various exhibitor booths at BAASS Connect. There will also be opportunities for you to interact with other attendees and BAASS practice leaders. Be sure to keep an eye out for where you can win some prizes. There will be giveaways of gift cards and more throughout BAASS Connect 2019!
Have any other questions? Feel free to contact us or reach out to us on social media! We hope to see you at BAASS Connect 2019.