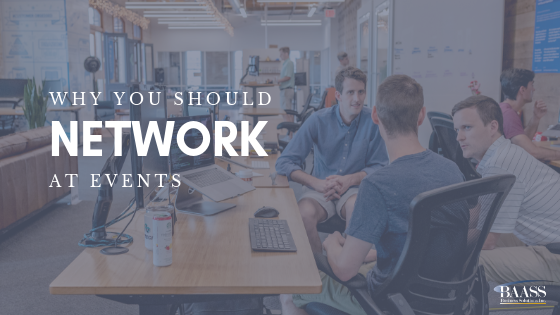 The dreaded networking. You remember all the time you spent trying to perfect your handshake - not too tight of a grip, but not too light either. You remember all the time you spent trying to come up with the perfect conversation starter. Yet, time and time again, you've heard it: networking is important. Even if it is your most dreaded activity, pushing you far out of your comfort zone, it is an excellent way to further your career and knowledge. If you need to be further convinced, look at our list of the 5 reasons why you should network at events.
Building Connections
They say "great minds think alike". A prominent aspect of networking is its ability to connect you to individuals who you would otherwise not meet. At events, like our annual BAASS Connect, you will find a variety of professionals with different backgrounds in many industries. Speaking with others, especially of different industries, can provide you with new insights and knowledge, that may be transferable to your own organization. Use networking as a way to branch out and reach other individuals too, through potential referrals.
Mentorship Relationship
Meeting people in your industry, whether they be in similar positions as you or not, opens the door for you to gain valuable insight. Think of it as a brief mentorship opportunity where you can learn something and teach something. The various environments in which all organizations function, create different teachable opportunities. Hearing advice from people across different positions is an excellent way to give perspective and context into the tiers of an organization. You may even have specific questions that Google just doesn't have the answer to; reaching out and connecting to industry professionals may be the key to getting the answer that you need, based on their experiences.
Brand Awareness
A great way for your brand to gain exposure is through networking. Speaking with other professionals, especially those in the same industry, will spark more interest in your organization. If you're an entrepreneur, networking would also be a useful method in getting advice from industry leaders or other experienced entrepreneurs. Networking with other individuals gives you space to communicate your organization or brand with others, which in turn may generate more conversation about it.
Idea Exchange
Networking allows you to interact with like-minded individuals that are in your field. Take it as an opportunity to exchange or bounce ideas off of one another. This is especially useful if the individual in which you are networking with has experience in your industry or role, allowing them to form an opinion about your thoughts. This may also help you learn or stay up-to-date about new, relevant trends.
New Opportunities
Being able to meet new professionals will allow you to extend your reach and branch out through their network, provided you made a positive, lasting impression. Essentially, connecting with others may lead them to connect you with other figures in the industry that they are connected to. Keep in mind that you may also do the same for other individuals who you are speaking with.

Now that you know about the benefits of networking, we hope to see you at BAASS Connect to engage with other industry professionals, whether they be in your industry or not. Don't fear networking, but embrace it for all that it can do for you and your organization. Need more convincing? Check out this article: Why Attending Networking Events is Beneficial for your Business.