The date was November 15, 16, 17, or 29th – depending on which city you were in. For me it was the 29th and I was in New Westminster, BC. I woke up bright and early and made my way to BAASS Connect. When I arrived, preparations were in full swing.

Some of my co-workers were preparing the registration table for our soon-to-be arriving guests. In the front hall, countless exhibitors decorated their tables with posters, displays, brochures, and prizes. I could smell freshly brewed coffee as the caterers set out warm refreshments and pastries for breakfast. In the main hall, our MC was testing the speakers to ensure everything would flow smoothly once the day kicked off. Before I knew it, it was 8:00 AM and guests were arriving.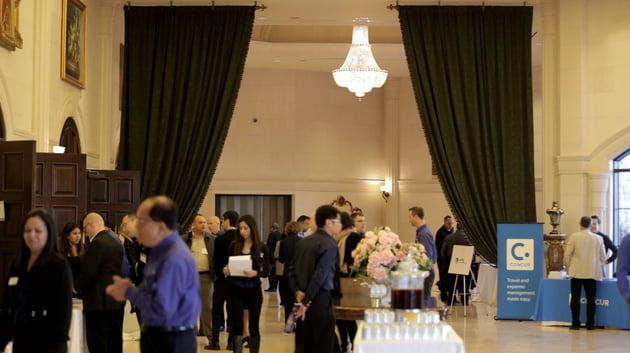 After breakfast, the day seemed to fly by with keynotes, Must-Have Solutions, and What's New with Sage presentations. It still amazes me that I have worked for BAASS for almost 2 years and there is still so much to learn. Later in the day, our guests were able to pick which sessions they wanted to attend – like always, the Tips & Tricks session was a huge success, in large part because of our amazing technical support consultant, Bonnie. But everyone was thoroughly impressed by our other sessions by BAASS employees from the Canadian east coast, as well as exhibitor sessions from Deana Dearry (Sage HRMS) and Robert Lavery.
As the day drew to a close at 5:00 PM, I began to reflect. I had really learned a lot about Sage and our great vendors, but what truly struck a cord with me was that I was able to connect with our customers. As a wise co-worker told me, BAASS Connect is an opportunity to put a face to the voices we hear all the time. I talk to our customers fairly regularly over the phone, but BAASS Connect allowed me to truly "meet" my customers. The event is an opportunity to build connections, to network with your peers, and to meet new people.
And those connections do not have to stop now that the event is over. Starting in February 2017, many of the exhibitors from our events will be hosting webinars regarding their solutions. We want to give our BAASS Connect guests further opportunities to learn in a non-formal setting, so they can be fully equipped with knowledge and an understanding of the solutions we offer. As for our customers who were unable to attend BAASS Connect this year: you are invited to the webinars too! If you've heard about one of the many BAASS vendors and have been interested in their solution, we want to give you the opportunity to talk to them and see what their solutions are capable of.
We will be sending updates on these webinars via our newsletter. If you would like to subscribe to our newsletter,please fill out the form on the bottom of this page and designate which BAASS branch manages your account.
Finally, I wanted to give a huge shout-out to our award winners for being some of the best customers to work with:
From New Westminster, I want to thank BC Milk Marketing Board who took home the Sustainability Award, Canucks Place Children's Hospice who received the Spirit Award for giving back to the local community in Vancouver, Morgan Creek Golf Club who returned to BAASS this year and received the Reunion Award, New Line Products who was given the Eagle Award for using Sage innovatively , British Canadian Importers who received the Evangelist award by spreading the word of BAASS Business Solutions, Servantage Service Corporation took home the leading example award, for being a lead example for Sage software, and … drum roll please… Eminence Organic Skin Care who BAASS Vancouver considers our Customer of the Year.

From Ontario, Novadaq (End-to-End Solutions award), Belmont House (Growing with Sage award), Alarmforce (Business Optimization Engagement award), Chinook Scaffolding (Embracing the Cloud award), and Upper Canada Childcare Centres (Business Optimization Engagement award).
Katrina Gorrie, Administrative Assistant, BAASS