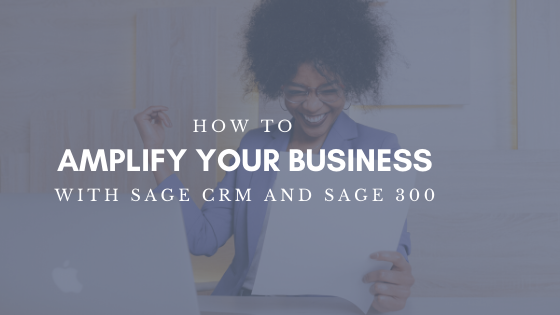 This blog will share our recent discussion How to amplify your business with Sage CRM and Sage 300, explaining how your employees can work remotely, all while managing sales with a fully integrated web-based Sage CRM and Sage 300. Make sure to watch the live video to see the products in action; demonstrating how to bridge the gap with CRM so remote workers can access necessary financial data with ease.
Business processes and the way we use software solutions have changed substantially. This blog will cover a few strategic and philosophical values about why Sage CRM works so well with Sage 300 ERP, as well as some BAASS created tools that can help you to add value.
What is the business value of adding CRM to ERP?
Adding Sage CRM to Sage 300 is all about making your front office work more efficiently. By this I mean amplifying the speed in which data and processes transfer around your organization, by making sure that customers and prospects do not get forgotten, and improving the way in which data is managed in your business. Additional value is you are able to make sure things are completed on time, and not missed, such as compliance or renewals.
What do businesses want out of a CRM solution?
The analyst firm Software Advice completed a CRM Buyer Analysis and looked at customers of all sorts of sizes and industries to find the top reasons.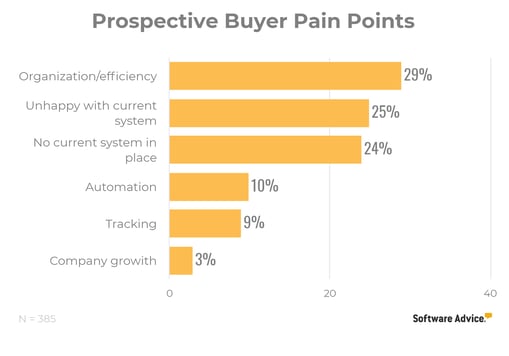 The study had fascinating results explaining that businesses still need/desire the simple yet core features of CRM, regardless of which type of marketing they invest into (ex. email marketing, content marketing etc.). This is because CRM is able to hold information such as:
Who am I talking to?
What am I talking to them about?
When do I need to follow up?
What sales details have we gained? What are we missing?
What contacts or customer service tickets we received?
These are simple out of the box aspects Sage CRM is able to present, unlike Sage 300. Sage CRM is simple to use and deploy and provides excellent value. However, you need a partner like BAASS to help you "get it right" and have a successful implementation. This is due to a larger amount of "thinking time" or "business analysis" and customization to get the CRM solution to show you what you need to see, what features need to be activated, as well as user permissions and roles. Having a properly implemented CRM solution will help to lead to measurable results such as better efficiency on processes, better data, more targeted sales activities, and other things that are measurably useful for your business.
What are the top requested CRM Software features?
According to Software Advice's CRM Buyer Analysis, the top requested features are contact management, the ability to track interactions, scheduling and reminders. Commonly when talking to customers we will ask how well do you manage your sales team or where do you track your forecast for the next quarter revenue, and the answer is usually a spreadsheet or a small database. Although these may work, increasingly businesses are trying to leverage and join up customer data to show in one place, stay connected, and be seen by everyone who needs it and business processes should run through all of that.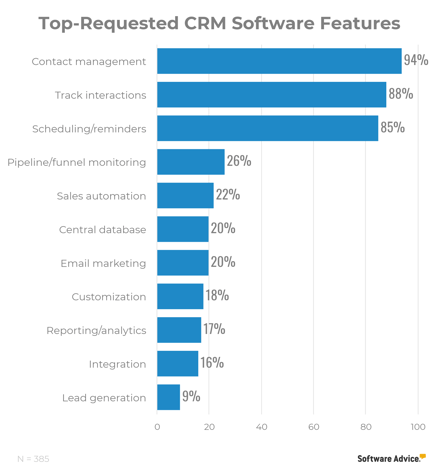 We ask you to think about where your front office systems are at, are you somewhere at the very top end and quite organized with a 360-degree view? Or are you struggling through? For example, when you want to send to a mailing list it takes you 4 hours instead of 4 minutes like it realistically could with a properly integrated and used CRM solution.
What do customers use right now?
The CRM Buyer Analysis results showed that many businesses are using some sort of CRM Software, Manual Methods or Nothing at all. Manual methods can take a large amount of time, are inefficient, and can lead to errors; especially if in an industry that needs compliance. Easy and quick access to customer data, wherever you are is very important. As customers interact with large companies with well developed CRM solutions, they will begin to expect this type of service with all of their interactions. It is important to have tools in place to support, manage and track customer data to ensure a great customer experience.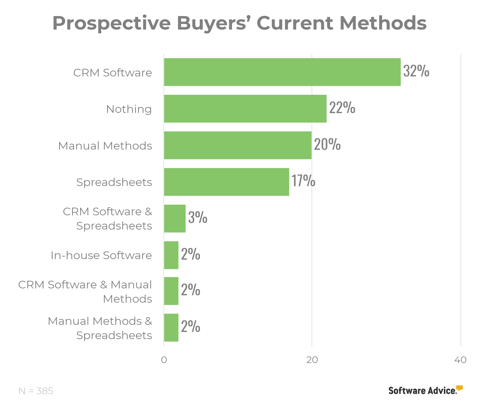 Who uses Sage CRM?
As shown in the graph below, approximately 75% of Sage CRM users are small to medium businesses. Typically these businesses have many disconnected systems; leveraging office technologies to do things, but they may be struggling to join them all together.
Sage CRM in Action inside Sage 300
A complete view of customer data
Providing visibility on customers across all departments, including finance. Users have instant access to customer data such as:
Sales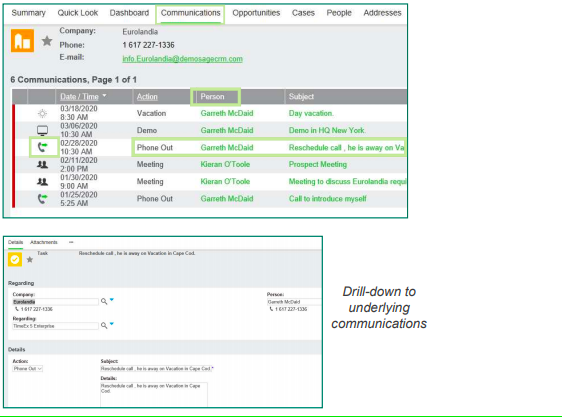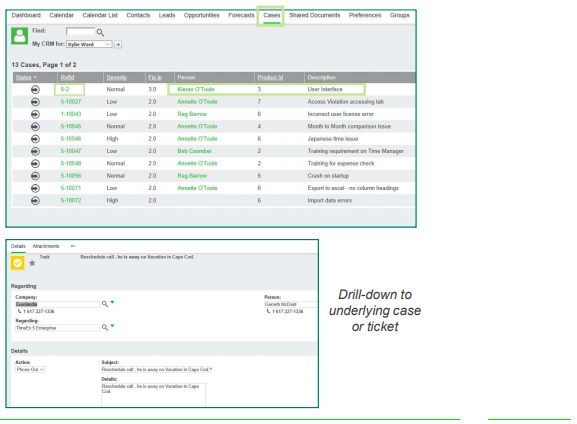 Sage CRM provides full activity management capabilities
Offering calendar & task management
View by day, week, month & due dates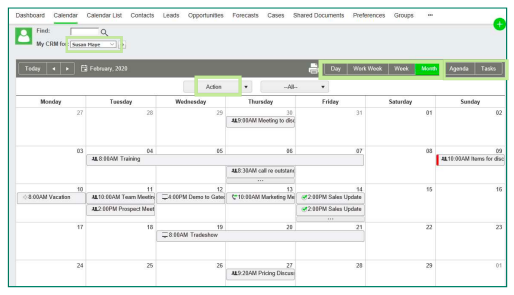 Schedule multi-user activities

Sage CRM provides extensive workflow automation capabilities
Sage CRM allows you to define YOUR business processes
Ensures that activities are carried out in accordance with policies
Sage CRM provides powerful reporting and analytical capabilities
A comprehensive suite of standard report categories.
Use existing reports or create new ones, using simple tools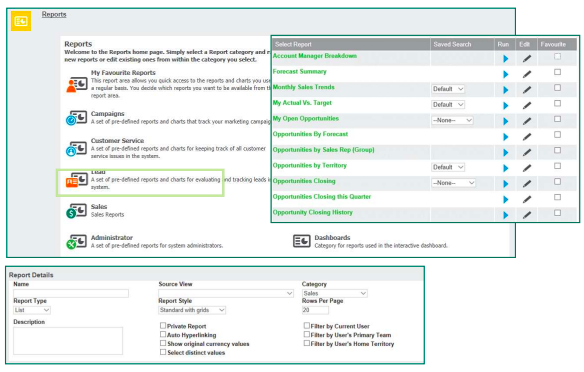 Sage CRM provides fully customizable dashboards for all users
A range of dashboards, to monitoring key performance metrics
Easily customized for teams & users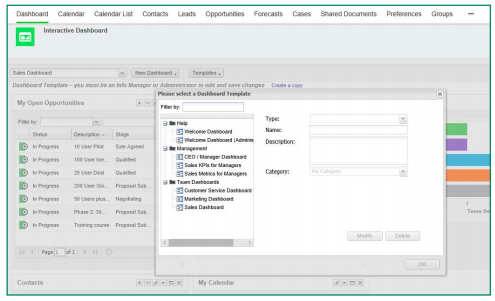 Sage CRM provides out-of-the-box integration
Sage CRM offers out-of-the-box with Sage accounting systems, providing:
Consistent
Customer data
Reducing the need to re-key & re-check the information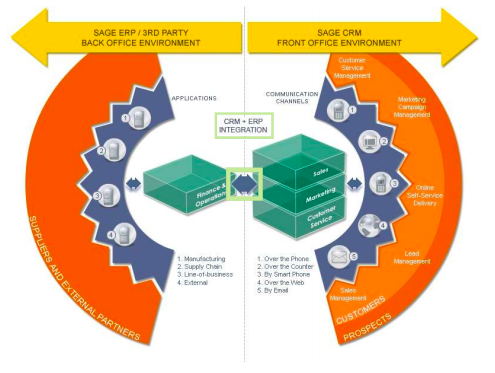 Conclusion
CRM helps you to "think forward" at what is ahead and what needs to be prepared and planned for the future. BAASS's Development Team has created various tools to help add value and bridge the gap between CRM and ERP, learn more at BAASS CRM Marketplace Tools. One of our newest CRM tools is the BAASS Sage Collect, which can assist you with your collections process..
To see a live demonstration of Sage CRM and Sage 300 working together, watch the full webinar here: How to amplify your business with Sage CRM and Sage 300.
Check out this successful implementation of Sage CRM and Sage 300 ERP: