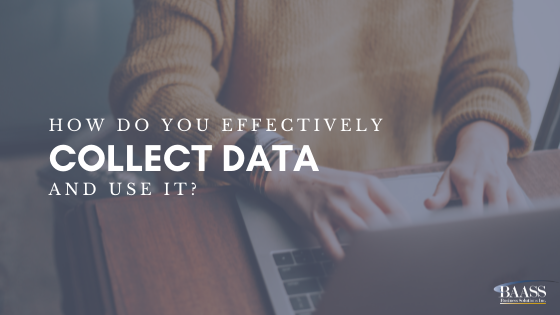 Are you making the best possible business decisions for your organization? Do you have a well developed plan for data analysis? When used properly, business intelligence can provide your company with valuable insight and direction.
All too often, a disproportionate amount of time is spent on compiling and gathering data. This is in comparison to the time spent on the actual data analysis itself. This can cause you to miss crucial opportunities and important business information.
Getting the most out of your business data requires you to use modern-day tools and technology to analyze your data. You cannot do this with basic programs, spreadsheets or data charts alone. You need an advanced solution that can help you automate the data gathering and analysis process.
With an efficient software solution that can help you handle this, you can devote more resources towards analyzing such gathered information instead. This way, you can quickly turn key data into valuable insight for your organization, and act on it.
Business Intelligence
Business intelligence encompasses the transformation of raw data into meaningful and useful information, for business purposes. It covers the processes and method of analyzing, displaying, and reporting from business operations or activities to optimize performance. Implementing a business intelligence solution can provide you with a complete view of your business. This will allow your organization to make better and more actionable decisions.
Read more about BI: The Role of Business Intelligence
Keep in mind that business intelligence can benefit a wide variety of organizations across numerous industries. A business intelligence solution can help you overcome various business challenges including but not limited to:
Multiple data sources

Multiple databases

At risk for compliance

High volume of data

Information not accessible to employees

Budget and forecasting
It's important to note that business intelligence can work alongside other software solutions at your organization, such as your ERP. In this context, it can pull data straight from your ERP solution. Such data can be presented through reports, dashboards, and more, to your team.
Learn more about the combination of ERP and BI:
How ERP and BI Make the Perfect Match
Automating Data Capture and Analysis with Business Intelligence Tools
Historically, raw data and other insights had to be collected by:
Performing qualitative research through social sciences
Conducting focus groups
Manually evaluating past records and financial statements
and more
However nowadays, technology has made far advancements. It now enables us to collect data sets even through the systems already in place at our organization. Such data and insights about your organization can be made much more accessible to employees.
Automation is essential for increasing business efficiency and is a much needed tool in the area of data mining and analysis. Is your company still using spreadsheets and other manual processes to collect information and data? You are wasting valuable time and could be missing out on prime business opportunities.
Recent advances in technology have resulted in evolved software solutions. These solutions allow businesses to automate all kinds of data collection processes, data mining and analysis, and more. This can save your organization a significant amount of time that would otherwise be spent on utilizing other data collection methods.
Business intelligence applications enable financial leaders to quickly obtain the type of data they need. Additionally, they can present it in a way that makes it easy for further analysis. Business leaders can pull real-time reports addressing any area of the business, as well as leverage dashboards.
The findings produced from business intelligence applications can be leveraged to make more effective decisions for the company. Accurate data and business forecasting can give you the confidence to make better decisions for your organization.
Why Business Intelligence?
Over time, you can even use business intelligence to uncover trends in your data. This can help you create more accurate forecasts, have better quality assurance and quality control, and more. For one, trends can help your organization be better prepared for the future. This allows you to be more efficient in handling changes like production volume due to the ability to perform sales forecasting.
Accurate data collection is essential to maintaining quality information that can help you make more actionable decisions. Spending your time wisely on gathering and measuring information can help you better evaluate outcomes of your organization. This can include marketing campaigns, financial initiatives, and more. In addition, with the improved planning and analysis, you can tighten various business processes across your organization.
All in all, business intelligence allows you to not only capture the data you need but use it as well. Improve your efficiency, data accuracy, and decision-making capabilities; stop managing your data and information with spreadsheets. Instead, automate the collecting and analyzing data process with business intelligence. Business intelligence offers a better way to sort, compare, and review data to help your company make smarter decisions.
With a simple investment, you can begin cutting the time you previously spent gathering and organizing data in half. You can instead focus your efforts on actually using the quantitative or qualitative data gathered. These can help you to make better decisions for your business – both now and in the future.
A business intelligence solution goes beyond having more accessible data. But rather, it's about utilizing that data to improve your business, and ultimately, its bottom line.
Learn about how your business can use business intelligence to improve your business financial situation and support quality decision-making:
BAASS Business Solutions
We understand that you may have many business intelligence related research questions. BAASS Business Solutions offers business intelligence solutions including Sage Intelligence, Sage Enterprise Intelligence, and BI Tools developed by BAASS.
Business intelligence training courses for business owners and other users of the Sage Intelligence products are also offered. Please contact us for a consultation today. We can help you choose the best business intelligence solution for your needs. Contact us or call 1-888-650-5544.
Looking to Implement a Business Intelligence Solution?